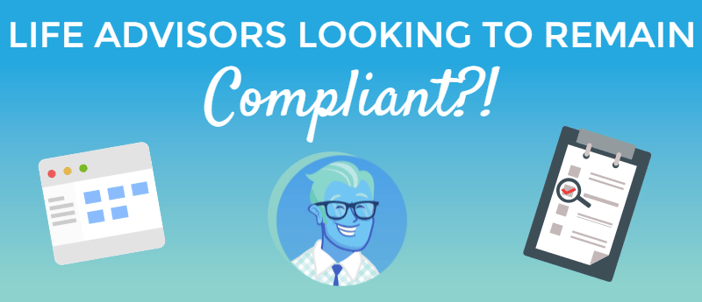 One of the key challenges for the Canadian Life Insurance Industry is to ensure compliance can be fairly and uniformly applied, regardless of the size of the MGA and/or Carrier. Among many of APEXA's goals is to give every advisor, MGA, and Carrier in Canada the opportunity to uniformly apply consistent practices when it comes to advisor screening, monitoring, and compliance. This will not only increase efficiencies but will also promote collaboration across the industry
One of the movements we've seen recently to help reduce the burden of contracting and compliance for life and health insurance advisors is that of the Canadian Life and Health Insurance Industry Association (CLHIA).
On January 1st 2015, CLHIA approved the G8 and G18 guidelines. This milestone enforced a set of standards and practices for insurer and MGA practices – directly impacting how life-licensed advisors in Canada operate. At the time of implementation, many MGAs, Carriers and organizations like the Canadian Association of Insurance Life Brokerage Agencies (CAILBA) conducted information sessions in preparation for the changes that the G8 and the G18 would bring.
The two guidelines (G8 & G18), were designed to promote consistent practices and standards for the life & health insurance industry.
CLHIA Guideline G18 – "intended to bring greater clarity to the roles, responsibilities and accountabilities within insurer-MGA relationships." - CLHIA
Adherence to the insurers' code of conduct
Ongoing advisor screening and monitoring
Reporting of suitability
Adherence to regulation
Adequacy of E&O
CHLIA Guideline G8 – "Sets out a framework and describes practices to assist companies in establishing and maintaining a system for screening, monitoring and reporting advisors." - CLHIA
Satisfies regulatory requirements
Valid license, valid & sufficient E&O
Regulatory discipline
Bankruptcy
Sales Practices
So how do the G8 and G18 Guidelines relate to APEXA and how do they help life-licensed Advisors across Canada??
The business of APEXA, when fully implemented, will be to provide advisor screening, contracting and compliance monitoring services to insurers and MGAs across Canada. This relates directly to the core issues which the G18 standards are trying to address. However, with APEXA, this will be implemented using modern technology and a fully self-supported platform where carriers, MGAs and advisors can efficiently manage their contracting and compliance needs. Advisors will have a single online profile where they can electronically sign contracts, store their compliance forms and even track their CE credits, ultimately simplifying how they can conduct business with existing and future MGAs and Carriers.
APEXA will also maintain information such as licensing and E&O. This will allow the advisor to easily contract or communicate with all the Carriers and MGAs with whom they do business. Updates will be completed in a secure manner and information will only visible to those organizations with a contractual relationship the technology will be built so multiple browsers can access APEXA. Further enabling the "mobile advisor".
APEXA automates much of what Carriers and MGAs are concerned about when it comes to matters such as advisors operating in multiple provinces, regulatory infractions, debt management and codes of conduct.
What's more?! The Canadian Council of Insurance Regulators (CCIR), an inter-jurisdictional association of insurance regulators ran a series of consultations in 2010 with one of their main findings being the demand for greater standardization across MGAs and channels as well as a greater clarification of roles. APEXA's service offering is directly in line with this mandate and will be achieved through industry collaboration and standardizing the processes for all life-licensed advisors across Canada.
Learn more about how APEXA will be affecting change in the Canadian Life Insurance Industry with this video overview!
---
APEXA et les lignes directrices LD8 et LD18 de l'ACCAP : note importante sur les nouvelles règles pour les conseillers en assurance vie autorisés
Le secteur canadien de l'assurance vie doit relever un grand défi : assurer l'application équitable et uniforme des exigences de conformité par des agences générales de gestion (AGG) et des assureurs de taille variable. C'est pourquoi APEXA veut notamment offrir à tous les conseillers, les AGG, et les assureurs canadiens un processus uniforme de sélection des conseillers, de surveillance et de vérification de la conformité. Un tel processus serait très efficace et favoriserait une collaboration entre les acteurs de l'industrie.
Récemment, un de ces acteurs a contribué à alléger le processus de mise sous contrat de conseillers en assurances de personnes et de vérification de leur conformité : l'Association canadienne des compagnies d'assurances de personnes (ACCAP).
Le 1er janvier 2015, l'ACCAP a approuvé les lignes directrices LD8 et LD18. Est alors entré en vigueur un ensemble de normes et de pratiques touchant les assureurs et les AGG et, du coup, le travail des conseillers en assurance vie autorisés. Beaucoup d'AGG, d'assureurs et d'organismes comme la Canadian Association of Insurance Life Brokerage Agencies (CAILBA) ont d'ailleurs tenu des séances d'information en prévision des changements qu'entraîneraient les nouvelles lignes directrices.
Ces deux lignes directrices (LD8 et LD18) sont conçues pour standardiser les pratiques du secteur des assurances de personnes.
La ligne directrice LD18 de l'ACCAP « vise à clarifier les rôles et les responsabilités dans le cadre des relations entre les assureurs et les AG ». – ACCAP
Respect du code de conduites des assureurs
Sélection des conseillers et contrôle continu
Déclaration des irrégularités
Respect des dispositions réglementaires
Suffisance de l'assurance erreurs et omissions
La ligne directrice LD8 de l'ACCAP « établit un cadre et énonce des moyens visant à aider les sociétés à créer et à maintenir un système pour la sélection, le contrôle et le signalement des conseillers ». – ACCAP
Respect des exigences réglementaires
Permis valide, assurance erreurs et omissions valide et suffisante
Mesures disciplinaires d'un organisme de contrôle
Faillite
Pratiques commerciales
Mais quel est le lien avec APEXA? Et en quoi ces lignes directrices aideront-elles les conseillers en assurance vie autorisés partout au Canada?
Une fois entièrement déployé, APEXA proposera aux assureurs et aux AGG de partout au Canada des services de sélection de conseillers, de mise sous contrat et de vérification de la conformité. Ces services répondent parfaitement aux grands objectifs de la ligne directrice LD18. Et avec APEXA, ils seront offerts sur une plateforme ultramoderne et entièrement autonome où les assureurs, les AGG et les conseillers pourront gérer efficacement leurs contrats et les questions de conformité. Chaque conseiller aura un seul profil en ligne où ils pourront signer des contrats électroniques, pré remplir ses formulaires de conformité et même consigner ses unités de formation continue. Bref, faire affaire avec des AGG et des assureurs existants et futurs n'aura jamais été aussi simple.
APEXA couvrira l'information concernant les permis et erreurs et omissions. Résultat, les conseillers pourront aisément signer des contrats et communiquer avec tous les assureurs et les AGGs avec qui ils travaillent. Les mises à jour se feront en toute sécurité, et seules les organisations auxquelles le conseiller est lié par contrat, auront accès aux renseignements. Compatible avec divers fureteurs, APEXA deviendra le meilleur ami du « conseiller mobile ».
APEXA automatise beaucoup de casse-tête pour les assureurs et les AGGs : conseillers travaillant dans plusieurs provinces, infractions réglementaires, gestion des créances, codes de conduites…
Ce qui est de plus, le Conseil canadien des responsables de la réglementation d'assurance (CCRRA), une association intergouvernementale regroupant des organismes de réglementation d'assurance, a tenu en 2010 une série de consultations qui ont mené notamment au constat suivant : il faut assurer une meilleure uniformité d'une AGG et d'un canal à l'autre et mieux clarifier les rôles. Les services d'APEXA répondent directement à ce besoin, en favorisant la collaboration intersectorielle et en standardisant les processus pour tous les conseillers en assurance vie autorisés au pays.
APEXA contribuera à transformer le secteur canadien de l'assurance vie. Vous voulez savoir comment? Visionnez cette vidéo!