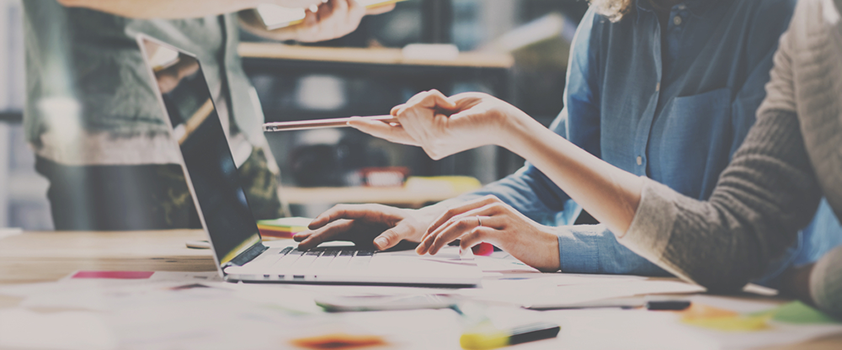 APEXA is all about collaboration, connection and innovation.
Collaboration
In today's technology market, it is more important than ever to always be learning new things to stay competitive. At APEXA, we like to think outside the box. Our offering is unique and was the result of thinking differently to solve problems and grow. What got APEXA to where we are today can only be described as the apex of collaboration. We brought together teams of experts from Manulife Financial, Sun Life Financial, Canada Life, Industrial Alliance, Empire Life, HUB Financial, PPI, IDC, Financial Horizons Group, and Bluesun to drive the industry to where we need to be. From the trenches, together we fought to standardize processes and create the first industry-governed solution for advisor contracting and compliance. Our platform is new and exciting, but ensuring our growing team has the necessary repertoire of skills to continue to grow and push APEXA forward is of equal importance. That's where connection and innovation can carry initial collaboration to the next level.
Connection
The APEXA team attends and has presented at numerous industry conferences, including Canadian Life Insurance EDI Standards (CLIEDIS), Canadian Life and Health Insurance Association (CLHIA), Canadian Association of Independent Life Brokerage Insurance Agencies (CAILBA), Le Congrès de l'assurance et de l'investissement, and Advocis events, among others. These conferences and events give our team the opportunity to learn from respected peers, keep current with new products, and stay up-to-date with industry developments. We also partake in tech-specific events, like TechTO, innovation sprints or MARS-hosted events. When we have the opportunity to present, we like to have fun and create excitement around the movement we started so we can motivate delegates to join. Professionals from our industry have seen other initiatives that never make it into operation – so the question they want answered is how we did it, and the story is a good one.
Innovation
People learn and hone their skills in different ways, which is why we do a variety of things to nurture our team and open us up to different opportunities and mindsets. Beyond attending conferences and participating in panels, we also see the value in workshops that help employees enhance certain skills. This can span topics like design or change management. APEXA recently participated in a week-long Design Sprint workshop led by The Design Sprint Academy. Design Sprint is a time-constrained, five-phase process that uses design thinking to reduce the risk when bringing a new product, service or a feature to the market. This workshop helps teams to define their goals, validate assumptions, better understand customers' needs, and answer critical questions through design, prototyping and testing ideas with customers. Workshops like this help APEXA to stay ahead of the game by enhancing problem solving skills, improving group dynamics, and ultimately, contributing to a stronger, smarter team.
Capitalizing on everyone's different perspectives and areas of expertise as well as continuing to hone those skills through participating in events and attending workshops is key to moving forward in a constructive way and working together to reach our common goal.
We'd love to hear about any workshops or events that you have attended that you found beneficial to your team! Please comment below.
---