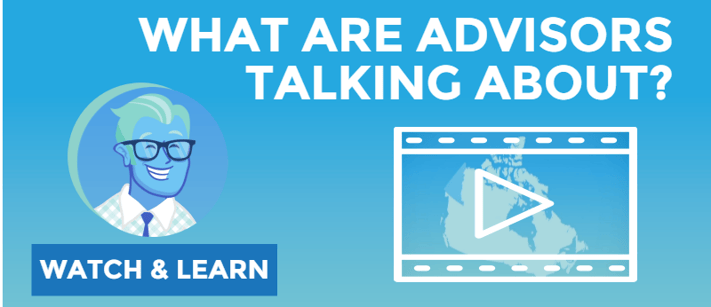 We are thrilled to announce the release of the APEXA awareness campaign introductory video. This is a key marketing asset driving us through to year-end which introduces APEXA as a solution for advisors and the associated benefits. The video encourages advisors to get involved as we reach closer to our onboarding schedule by subscribing to our A-Lister Mailing List.
In efforts to simplify and encourage rapid adoption in preparation for January 2016, this video will assist in building awareness, providing education, and creating excitement around APEXA for the Canadian advisor community.
The first step of achieving our goal of a smooth onboarding is to increase number of video views and subscribers on the A-Lister mailing list. So we encourage YOU to participate and share the APEXA message with your partners, clients, colleagues, and peers!
Want to get involved? There are a number of ways in which YOU and your organization can help us spread the APEXA news nation-wide!
Step 2: Subscribe To the List
Step 3: Share the Video
There is only ONE way we can build more awareness and increase views! That is to share our video across social media, via emails and newsletters and at industry events!
Tag us on your social media posts and don't forget to use our official hashtags: #APEXAGoLive and #AListed16!
Twitter: @APEXA_Corp
LinkedIn: APEXA Corp

Join our APEXA awareness movement today and participate in this industry-supported advisor screening, contracting, and compliance initiative!
---

NOUVELLES: COMMUNIQUÉ DE SENSIBILISATION, LA CAMPAGNE ET VIDEO APEXA
Nous sommes ravis d'annoncer le lancement de la vidéo d'introduction d'APEXA qui fait partie de notre campagne de sensibilisation. Ceci est un élément clé que nous utiliserons des aujourd'hui jusqu'à la fin de l'année comme pièce de communication qui introduira APEXA en tant que la solution clé pour les conseillers incluant tous les avantages du système. La vidéo encourage les conseillers à s'impliquer dès aujourd'hui jusqu'au début de 2016 en s'abonnant à notre liste d'envoi « A-Lister ».
Dans un effort d'encourager et simplifier l'adoption rapide avant le lancement en janvier 2016, cette vidéo aidera à développer la sensibilisation, l'éducation et la création d'anticipation autour d'APEXA pour la communauté des conseillers d'assurance-vie canadiens.
La première étape pour atteindre notre objectif d'une adoption progressive est d'augmenter le nombre de visionnement de la vidéo et abonnements à la liste de diffusion « A-Lister ». Nous VOUS encourageons donc à participer et à partager le message d'APEXA avec vos partenaires, clients, collègues et amis!
Vous voulez participer? Il y a plusieurs façons dont VOUS et votre organisation pouvez nous aider à répandre la nouvelle d'APEXA à travers le Canada!
Étape 2: Abonnez-vous à la liste
Étape 3: Partager la vidéo
Il y a UNE seule façon dont nous pouvons créer une plus grande sensibilisation et accroître le nombre de visionnement! Cela est de partager cette vidéo à travers les médias sociaux, par courriel et des dans vos bulletins et à des événements de l'industrie!
Tag-nous sur vos messages de médias sociaux et ne pas oublier d'utiliser nos hashtags officielles: #LancementAPEXA et #APEXA2016!
Twitter: @APEXA_Corp
LinkedIn: Apexa Corp
Joignez notre mouvement de sensibilisation d'APEXA aujourd'hui et participez à cette initiative supportée par l'industrie d'assurance-vie canadienne!