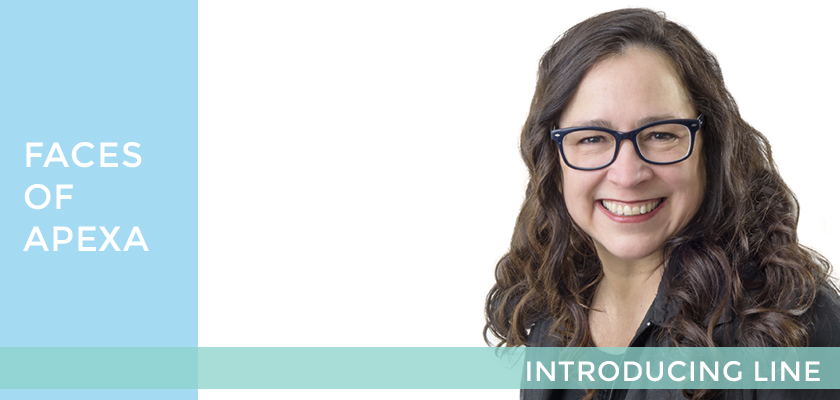 APEXA is the Canadian digital life insurance industry platform that provides smart contracting and compliance. The Faces of APEXA series brings you the inside scoop on our innovative team as they tell their stories and recount how they became part of the APEXA family. Our second post gives you the background on Line Robillard, Sales and Account Executive for Quebec and Eastern Canada.
Throughout my career, I've gathered experience in a wide range of roles and industries. And while every company clearly offered positives that drew me towards it, I quickly realized that APEXA possesses two particularly rare qualities:
A committed team who aim to drive innovation and change
A creative culture built on the individual strengths of every team member
When I discovered that APEXA offers such an innovative and creative culture, I found myself drawn to the job and the company.
---
Throughout my career, I've been consistently driven by innovation and change, and more specifically, I have found myself drawn to the creative process behind driving change, new ways of doing things and new technologies that are capable of modifying behaviours. In other parts of my career, I've had the chance to work overseas in China where I observed the integral role culture plays in the corporate environment. Being exposed to different ways of corporate thinking and their impact made me realize even more just how crucial it is to work together as a company in a constant push for betterment through innovation.
---


Fast forward to 2017 and APEXA.
APEXA's mission is simple: It seeks to simplify and standardize contracting and compliance for Advisors, MGAs, and Carriers while making the entire process more transparent and efficient. Rooted in this brief mission statement is the collective ambition to elicit industry-wide change while reducing the risk of non-compliance. This is especially applicable in my hometown province of Quebec, where prominent changes to the financial sector regulatory framework in Quebec will pose significant challenges for life insurance industry stakeholders. APEXA will help the industry in Quebec to comply with the new compliance directives dictated by the amendments to existing laws. Personally, I know first-hand how challenging the process of implementing industry-wide change is, but behind APEXA's committed team and strong culture and as a change agent and self-starter, I'm excited to meet this formidable challenge head on.
---
Want to meet more of our team members? Make sure to subscribe to our A-List to get content like this delivered straight to your inbox.