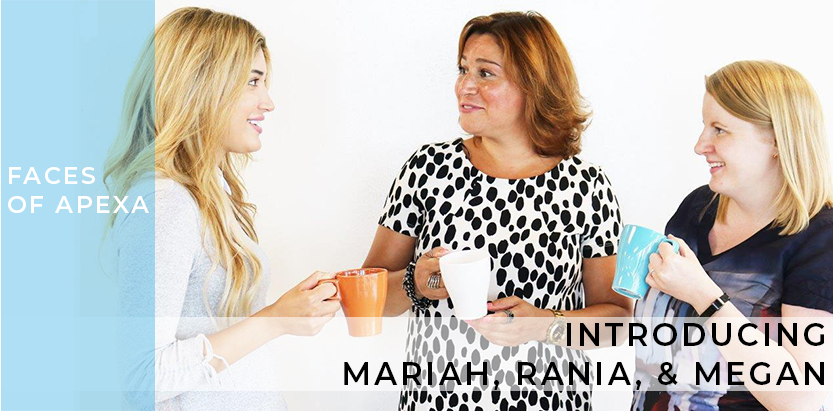 APEXA is the Canadian digital life insurance industry platform which provides smart contracting and compliance. Our third post in our Faces of APEXA series will give you the inside scoop on three of our newest team members: Mariah Clarkin, Sales & Communications Specialist, Rania Tanbouly, Bilingual Client Implementation Lead, and Megan Lussier, Client Implementation Lead.

Mariah
Mariah always had a strong passion for communications and writing that led her through a few different industries before joining APEXA. "I studied journalism in Montreal and from there I worked in writing and producing roles at CBC News Network in Toronto. Working in a newsroom was exciting and strengthened my love of writing, but I wanted to try my hand at corporate communications and was also interested in marketing and sales, so I started working for a firm in downtown Toronto that touched on those interests as well." Her work gave her the opportunity to build her expertise within the financial services sector. "After a while, I started to feel like I had contributed what I could in that role. I was interested in using my skills in a different industry, and had always been curious about technology when I came across APEXA. Once I met with the team, it seemed like a natural fit for me."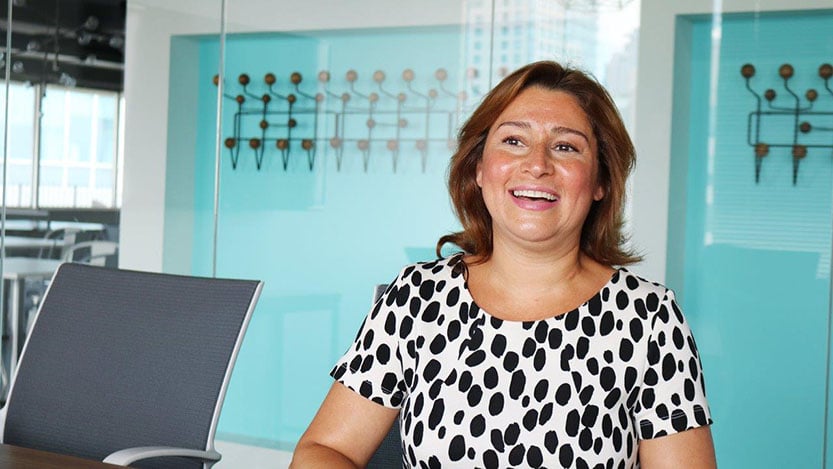 Rania
Rania, a project manager with APEXA, has a unique and diverse skillset. "My previous experience in sales, business consulting and change management provides me with a promising balance in my role at APEXA. There are many learning opportunities that I am exposed to in my new role and I am excited to be part of a leading vision that is leveraging the insurance industry in so many positive and progressive ways".
Rania's role ensures successful system implementation and client adoption. "I like working closely with clients throughout the entirety of a project and feel proud of every successful closure". From a change management perspective, user adoption is key to the success of the implementation and it is imperative to achieve a seamless transition from typical paper-based applications to innovative digital-based processes, where contracting and compliance can be managed online. It is our target to help the insurance industry reach this goal.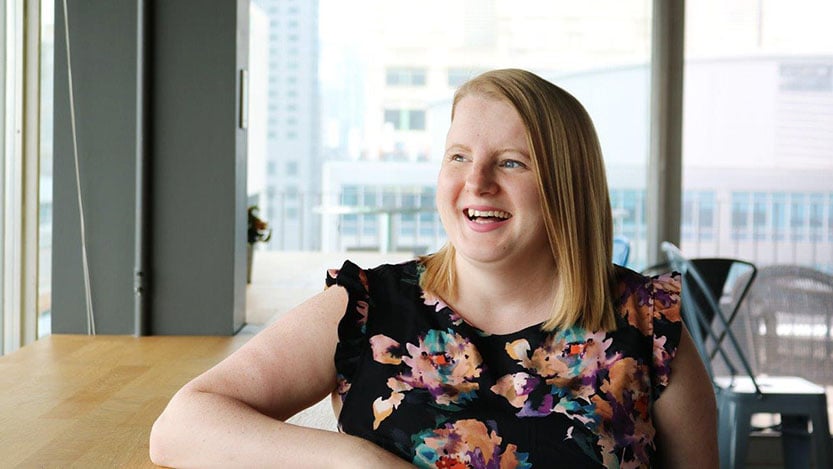 Megan
Megan came to the team with experience in the insurance industry and first-hand experience with the pain points APEXA is working to solve. "In 2012, I started in the insurance industry as a contracting coordinator. I was processing paper contract applications and working closely with MGAs. A couple years later, I heard about APEXA and how they were simplifying this process by taking it digital, and I thought that was really neat! I believed APEXA was a product that could help change the lengthy contracting and compliance processes I'd dealt with daily. I was eager to be a part of this leading-edge company."
Prior to joining APEXA, Megan worked as an Property Underwriter, but like Mariah, was interested in working for a more tech-focused organization. "As I was looking to switch careers, I came to Cookhouse Lab for a process design workshop. I was interested in the inventive, forward-thinking culture of LOGiQ3, Cookhouse Lab, and APEXA. I knew I wanted to be a part of that type of movement, solving some of the industry's biggest frustrations and being on the forefront of digital innovation. I came to APEXA because their platform is transforming an industry I know and love."
As Canada's first ever industry-governed solution for advisor contracting and compliance, innovation and creativity were integral to the creation and successful launch of APEXA. Mariah shares those values, "I really like how the company is changing the face of the industry through technology and I believe APEXA has a very bright future. I couldn't be more excited to be a part of that and to help our vision come to fruition."
Megan shares the same sentiment for a changing industry and is also excited about her new role as a Client Implementation Lead. "I can't wait to dig into this client-facing role supporting the implementation of APEXA, as my background implementing change at large organizations will help me both manage client expectations and ignite enthusiasm among our MGAs and carriers. What makes my job even better is the culture of APEXA – I couldn't be happier with the dynamic atmosphere, sound leadership, and the fast-moving pace of the company."
Rania sees opportunities for the platform beyond insurance. "APEXA's innovative vision to tie up loose ends, fill in the gaps and link all parties with the goal of saving time and effort is the way forward in today's world. I wish everyone could experience first-hand the positive impact APEXA has had on the clients who are currently using it. It's mind-boggling. There is huge potential for this platform to eventually simplify digital processes across other industries."
Aside from sharing many of APEXA'S core values, the company culture was a draw for Mariah, Rania, and Megan. "There is just a constant feeling of enthusiasm and ambition in the air at the office," Mariah says. With lots of opportunities to develop new skills and a supportive team surrounding them, APEXA'S three new members are already offering unique, high-impact contributions to APEXA as it continues to grow.
We're thrilled to work with such a multi-talented and passionate team to create change and improve our industry. Stay connected to our team and the latest in life insurance industry technology when you subscribe to our A-List. Get on the list to get informative content right in your inbox.
---
Want to meet more of our team members? Make sure to subscribe to our A-List to get content like this delivered straight to your inbox.