As the APEXA team continues to travel across Canada, whether it be to meet with provincial regulators, Carriers, MGAs or even networking with advisors at industry events, something that's become apparent to us, is the need for clarity and transparency around exactly how APEXA will be changing the industry.
---
More specifically, how APEXA will have an impact on Canadian Life Insurance advisors and how they currently operate.
---
We technically could go on for days about the benefits of APEXA, or point you to some of our webpages with this information. However, in an attempt to illustrate exactly how APEXA will be changing the landscape, I've created this great infographic to depict a real-life case scenario. Meet our persona in this case; Advisor Adam!

As you might have inferred from the graphic, APEXA is a national service which will be available across Canada and will be benefitting not only MGAs and carriers, but equally advisors.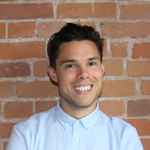 Nick Joly is Sales & Marketing Coordinator at LOGiQ3 & APEXA
Meet Nick

Advisor Adam who has licenses in multiple provinces and contracts with X companies, will no longer need to manually communicate this information to every carrier or MGA he has or would like to contract with. Similarly, APEXA will benefit MGAs and carriers, in the capacity of them being able to see if Advisor Adam is up to date with his contracts and licenses. All of this information will be stored within a single profile for each life insurance advisor in Canada, without any duplicate accounts.
Like I said, we could go on and on about how APEXA will be benefitting the Canadian life insurance industry. For an exhaustive list of benefits for both advisors and carriers, I do encourage you to visit our Benefits Page (for time-efficiency purposes), and for any questions - feel free to contact us at any time!