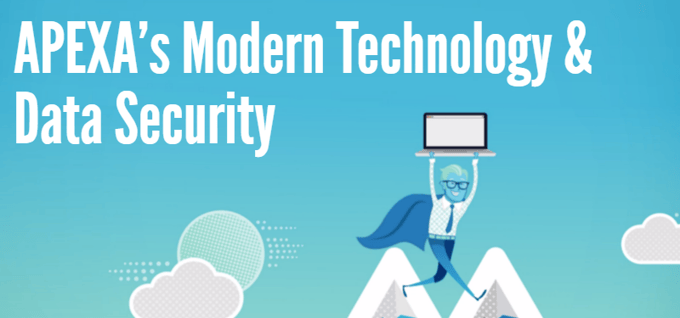 Today, many organizations strive for efficiencies, real time responses and focus on making things fast and simple for users. Translation: more and more industries embrace technology and process automation.
The insurance industry has started to incorporate more technology solutions into various segments. There are client facing insurance tools, electronic applications, quoting services and aggregation of data as it relates to insurance customers.
As an advisor, there are:
financial planning tools,
needs analysis software,
client management systems,
electronic applications,
and clients may even be underwritten electronically.
Until now, parts of the life insurance industry were still very manual and paper based. APEXA is creating a platform that allows advisors to contract and sign documents electronically, and share information with the organizations with whom they work, or from whom they are applying for contracts, all in real time. Some of the benefits of APEXA are a simplified contracting process with electronic, prefilled contract applications, E-signatures, quicker responses and the ability for advisors to notify multiple partners (MGAs and Carriers) of important information by updating their web-based profile.
APEXA also validates elements of the advisor's profile: like licence(s), E&O insurance and documents uploaded to prove incorporation or legal name change. APEXA even goes one step further, by reminding advisors of upcoming licence and E&O renewals.
This is all very exciting! But as an advisor you may wonder: "Who can see my information and is it safe?" Here are the key things to know about how APEXA works and maintains a secure environment:
1. APEXA contains a unique profile for each advisor. Once you are invited to APEXA:
APEXA validates who you are, through verification questions.
Advisors set their own passwords, part of what is used to login.
Advisors are the only people who can update their profile.
There are password minimums (making the passwords secure!).
The system logs you out if you forget to sign out and aren't actively using it.
2. An Advisor's profile can only be seen by organizations you work with or from whom you are applying for a contract.

3. Users on the system can not "search" for you if you do not work with them – to them you are invisible.

4. If an advisor decides to terminate a contract with an MGA or Carrier partner and no longer have a relationship with them, the partner's access to your profile ends and they cannot see your updates.

5. APEXA is a Canadian company, with Canadian data centers, which means that data does not leave Canada.
Into the techier stuff? Keep reading:
6. Layered security. APEXA protects our business by layering our security and notifications. APEXA applies security, and monitoring both in depth, and in width. Security is a key part of all system design and enhancements.
APEXA deploys:
Firewalls,
Multifactor authentication,
Intrusion detection systems,
Web filtering,
Malware scanners,
Integrity auditing tools,
Local storage encryption and more to protect the service.
7. Restricted access to admin console. The APEXA administration consoles are inaccessible to attackers because they're only available on our internal network and have no presence on our public facing servers. Additionally, they require multiple layers of authentication.
8. Provide security training to employees.
9. Regular vulnerability and penetration testing.
These are just a few examples of how APEXA is a secure, modern tech, contracting platform! Once live, our web-based solution will bring the Life Insurance Advisor contracting process into more modern times, by creating a tech platform that helps Advisors, MGAs and Carriers work more efficiently together when contracting.
Curious to know HOW & WHEN you can get onboard with APEXA? For progress updates & monthly newsletters, join our community of subscribers and be the first to receive the latest info!