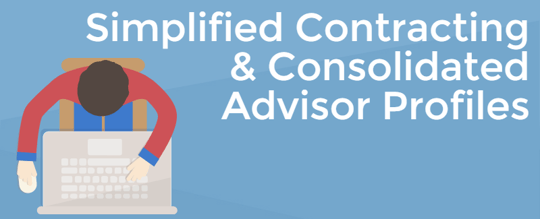 One of APEXA's core goals for 2016 is to simplify processes for advisors. APEXA collaboration is at the center of how we operate. Be it with advisors, insurance carriers, MGAs or provincial regulators, we are all working together to achieve one simple goal: to keep all those in the Canadian life insurance industry, Simply Connected.
One way we're doing this is by simplifying the contracting process for life insurance advisors, MGAs and Insurance Carriers. Today's contracting process is labour-intensive. APEXA is a modern day solution which streamlines the process and makes it paperless. Say goodbye to delays, misplaced forms and manual follow-ups. APEXA takes care of the entire process in one fast and efficient manner.
Through APEXA, Carriers and MGAs, with whom an advisor is contracted, will have access to advisors' licenses, E&O & profile, as will any MGA or Carrier with whom an advisor would like to contract.
The second way in which APEXA will be simplifying industry processes is through a consolidated advisor profile. Each advisor will have ONE single profile within APEXA where they can update information such as personal details, license and E&O and record CE credits. All updates will be shared with your MGA's and Carriers automatically, no additional updates are required.
APEXA is all about making these processes more simplified for Advisors so you can spend more time prospecting, selling and servicing your clients.
---


Gestion de contrats simplifiés et profil consolidé pour les conseillers
Un des objectifs fondamentaux d'APEXA pour 2016 est de simplifier les processus pour les conseillers. Pour APEXA, la collaboration est au centre de ce que nous faisons. Que ce soit avec les conseillers, avec les compagnies d'assurances, avec les AGG ou avec les organismes de réglementation provinciaux, nous travaillons tous ensemble pour atteindre un seul objectif : garder tous les intervenants dans l'industrie canadienne de l'assurance vie simplement connectés.
Une façon d'accomplir cela est de simplifier la gestion des contrats pour les conseillers en assurance, les AGG et les compagnies d'assurances. Aujourd'hui, le processus de gestion des contrats et très laborieux. APEXA est une solution moderne pour alléger le processus et le rendre complètement numérique. Vous pouvez dire adieu aux délais, aux formulaires perdus et aux suivis faits de façon manuelle. APEXA prend en charge le processus dans son ensemble pour le rendre plus rapide et plus efficace.
Grâce à APEXA, les compagnies d'assurances et les AGG avec lesquels un conseiller est contracté, auront accès aux informations selon leurs contrats, permis et assurances d'Erreurs et Omissions, ainsi que les AGG et compagnies d'assurances avec lesquels ils font affaire.
La seconde façon grâce à laquelle APEXA va simplifier les processus de l'industrie est de consolider le profil des conseillers. Chaque conseiller aura un seul et unique profil dans APEXA où il pourra mettre à jour ses informations telles que ses renseignements personnels, ses permis, ses assurances d'Erreurs et Omissions et où il pourra également enregistrer ses crédits FC. Toute mise à jour est automatiquement partagée avec les AGG et avec les compagnies d'assurances, ce qui fait qu'aucune mise à jour additionnelle n'est nécessaire.
L'idée de base derrière APEXA est de simplifier ces processus pour les conseillers pour qu'ils puissent passer plus de temps à chercher des clients, à vendre et à donner des services aux clients.