Welcome to summer! My favourite time of the year. Warm nights, patios, sunshine, beach, vacation…what's not to love? This will not be a typical breezy summer for the APEXA team since we are hot in the middle of knocking off many important milestones like training, testing and working with our partners to prep them for go live. Canada – here we come!
Have a look at some of our accomplishments from June and celebrate with us here!
The System Build is Complete!
Have you heard the news? Recently we celebrated a big accomplishment; completing the build of the APEXA system. Check out our updates on the website where you'll see a new homepage and a dedicated space for celebrating our milestones. Take a look at our updated video.
APEXA Training Days
From June 20th-22nd, APEXA hosted 'train the trainer' days for our nine initial clients. These sessions provided a full walk-through of APEXA and practice cases to help our learners get comfortable with the system. Training was led by our APEXA experts: Dylan Friedmann, Kelsi Elshaw, Vivien Kwan and Mike Brown. It was a huge undertaking to prepare training for a large group of customers and we thank our trainees for dedicating time to this effort.
Training will continue with APEXA hosting weekly sessions to support the trainees as they prepare for the next major milestone: User Acceptance Testing. Here's a great photo of everyone in action!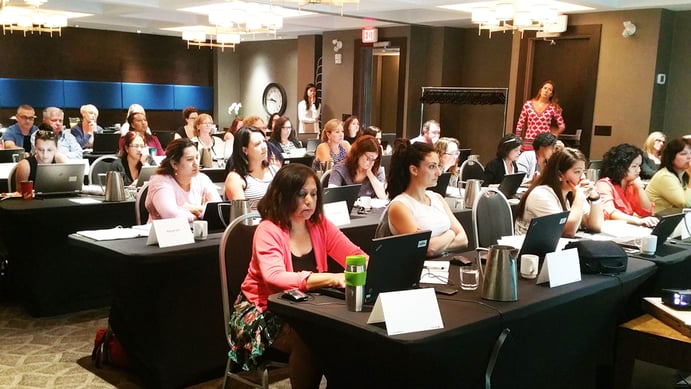 Conference Spotlight on APEXA
Earlier in June, APEXA was invited to present at the Deposit Insurance Professionals (DIP) conference in Niagara on the Lake, ON. With over 70% of deposit brokers also holding a life insurance license they were interested in learning more about APEXA and how we are charting a new path to streamline Advisor contracting and compliance.
July will be a month of planning as our clients prepare for User Acceptance Testing and we prep to support them through that process. Be sure to check back regularly as we continuously update the Milestones page with our most recent accomplishments.
Have a fabulous summer break for all those who are taking time off this season and continue to stay Simply Connected with us as we prepare for launch!