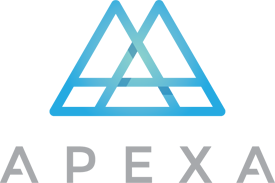 This is the third in our monthly series of communications where we update you on the progress of our industry project. May and June were very busy months with many internal joint project meetings and also several industry events. The Working Groups and the Project Leadership Steering Committee did an awesome amount of work at two all day workshops as well as more than a dozen virtual meetings. The reviews and feedback on the system prototyping were very important milestones as these demonstrated how the system will be built and navigated by users. The sessions included advisor profile management, contracting and administrative tools. Uploading documents and attaching documents were well received as was system tools. Reporting was also discussed. The carriers and MGAs added some very important insights into some subtle activities in contracting processes and also more was learned about sponsored advisors.
On May 15 the project team learned of the new brand for our solution – APEXA. We said goodbye to ASCCS. The teams completed branding surveys to help us come up with a creative brief and help from a branding organization.
---
APEXA is not an acronym but stands for the highest point (apex);
it denotes reaching towards a higher goal, an apex of life insurance industry standards, compliance and collaboration where information and people converge to make their work more effective and efficient.
---
APEXA Corp will manage the solution and will have an advisory board made up of industry representatives.
Please find a few of the major May and June milestones and upcoming July events in the chart and some important events coming in July.
Date

Activity

Outcome

Participants

May 15

PLSC Industry Meeting

Announced the new name - APEXA, APEXA Corp., and www.APEXA.ca (coming soon)

Progresssed key project issues

Project Teams

Project Sponsors

May 21

Canadian Sales Congress, Toronto Exhibition, APEXA Tradeshow Booth

APEXA Prototyping Demonstration with advisor feedback. More than 1000 registrants attended CSC

Core Team

LOGiQ3 CEO

Marketing

May 22 - June 22

Prototyping Review Sessions with Carriers and MGA - More than a dozen sessions

First glimpse into the system design, navigation and orientation for project teams

Working Groups

Project Sponsors

Core Team

June 3-5

CAILBA Annual General Meeting, Toronto, Tradeshow Participation

Meeting of leading MGA, Carriers, and Industry

APEXA Tradeshow Participation

Core Team

June 11

Industry Summit Meeting, Burlington Ontario

Full Day Agenda including:

Advisor Adoption




Top Next Carrier Group

Top 100 MGAs

Master Services Agreement

Change Management

APEXA Build Hight Level Presentation





Project Teams

Project Sponsors

June 24

BMO Life Assurance Presentation

Core Team

June 25

CLHIA Presentation

Core Team

July 7

Release of v3.0 Documentation and Prototyping Surveys

Aggregated feedback from v2.0 plus additional information from sub committees specialities

Project Teams

Project Sponsors

July 16

PLSC Meeting

Focusing on the industry agreement

Project Teams

Project Sponsors
To be Simply Connected with the progress of APEXA and never miss an update, subscribe to our Monthly Newsletter!