Version Francaise
The month of May was filled with exciting times for the APEXA Team. We welcomed a new CEO, we got a glimpse into the prototyping of the APEXA portal for advisors, MGAs and Carriers and we networked, a lot! The month of May brought with it new beginnings and an increase in momentum as we continue to build and prepare for a January 1 Go-Live date.

APEXA User Interface: Prototype Shot
We are so excited to be sharing with you this first round prototype of what the APEXA system will look like from the advisor's portal. Of course, exhaustive testing and prototyping is continuously in the works, but amidst all of the build, we're happy to be sharing this initial version with you! We hope you enjoy the simplicity and ease of use of the system when it goes live!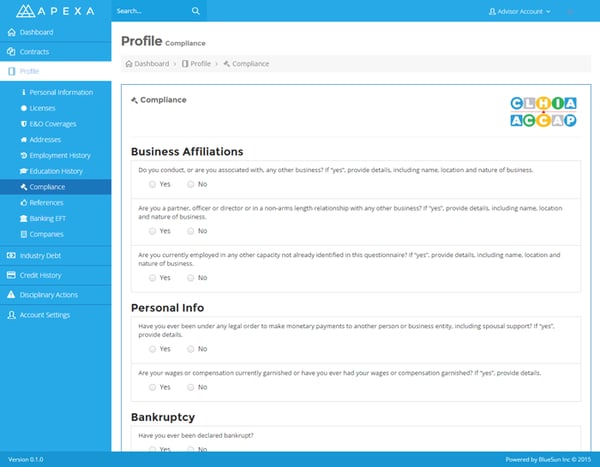 Let's Connect!
As you know, APEXA's tagline is: Simply Connected, and with that tagline comes our commitment to bring you innovative content tailored to Advisors, MGAs, AGAs, Insurance Carriers and industry stakeholders. Through the APEXA Blog and our Social Channels - Twitter & LinkedIn - we commit to keeping you simply connected. Join us on LinkedIn here!
A New CEO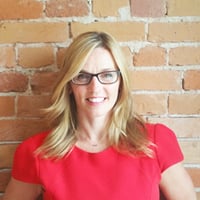 By now you may have already read the press release, but at the very end of the month the APEXA team welcomed Tonya Blackmore as our new CEO. With approximately seven months left until APEXA's Go-Live date, Tonya will focus on setting a long term strategy beyond initial implementation, continue to grow the service, and ensure that it continues to add to the industry as it evolves. Please join us in welcoming Tonya to our family, and be sure to visit the APEXA Blog for full details.
APEXA at the CSC
For those of you who attended the Canada Sales Congress last month at the Canadian National Exhibition, we hope you were one of the lucky ones to grab some of our APEXA swag, learn about the services and get a picture tweeted out by our team! Our representatives had a great time and a perfect opportunity to engage with many Canadian Life Advisors. What's more, we're pleased to say that the feedback we received from the conference was overwhelmingly positive. Be sure to visit the APEXA Calendar to keep an eye on the upcoming conferences we'll be attending!

Governance Board Updates
APEXA's current Governance Committee all gathered to discuss the short term deliverables for APEXA as well as the long term vision. More than anything, this meeting served useful for governance board members to get into the regular rhythm of APEXA's high momentum pace in these coming months.
In closing this month's newsletter, I couldn't feel more at ease in passing the torch over to Tonya Blackmore's more than skillful hands. She will have many exciting updates for you in the coming months and I hope you are as excited as we are to have her lead this incredible initiative.
Warmest regards,


Chris Murumets
Co-Founder, LOGiQ3
---
APEXA - Simple et branché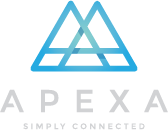 Développements de mai 2015
Le mois de mai était plein de moments excitants pour l'équipe APEXA. Nous avons dit bonjour à une nouvelle PDG, nous avons vu les premiers prototypes du portail pour les conseillers, AGGs et fournisseurs, et nous avons connecté avec des gens, souvent! Le mois de mai a signalé de nouveaux départs et un élan accéléré lorsque que nous continuons à préparer pour la date officielle de lancement; le 1er janvier 2016.
Interface Utilisateur APEXA : Prototype No. 1
Nous sommes tellement heureux de partager avec vous, le prototype de ce que le portail des conseillers ressemblerait. Bien sûr, de nombreuses validations et revues seront fait, mais déjà à la mi-construction, nous sommes vraiment content de partager cette première version. Nous espérons que vous aimeriez la simplicité et facilité d'utilisation dès qu'il sera disponible et actif!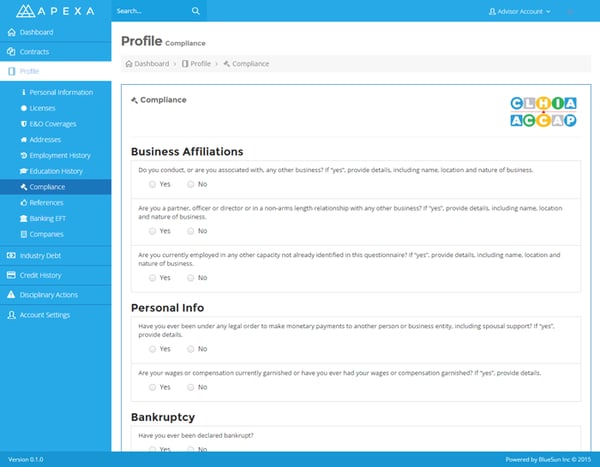 Connectons!
Comme vous le savez, le slogan d'APEXA est Simple et branché, et avec ce slogan vient notre engagement d'amener des communications adaptées aux intérêts des conseillers, AGGs et Fournisseurs. Via notre blog et nos media sociaux – Twitter & LinkedIn – nous promettons de toujours vous garder informer de façon simple et branché. Veuillez nous joindre sur LinkedIn ici!
Une Nouvelle PDG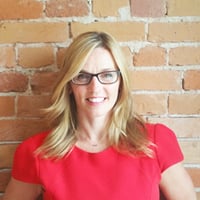 A présent, vous avez peut-être déjà lu le communiqué de presse, mais à la fin du mois de mai, l'équipe APEXA a salué Tonya Blackmore à titre de notre nouvelle PDG. Avec environs sept mois restant avant le lancement officielle, Tonya se concentrera sur une stratégie long-terme qui continuera après l'exécution initial, continuer à croitre le service et s'assurer que cela contribue selon l'évolution de l'industrie. SVP rejoignez-nous pour souhaiter la bienvenue à Tonya, et assurez-vous de visitez notre blog pour tous les détails.
APEXA au Congrès de Ventes
Pour ceux d'entre vous qui nous sont venu au Congrès de Ventes le mois dernier à l'Exposition Nationale Canadienne, nous espérons que vous étiez un des chanceux à être introduit aux services d'APEXA et obtenir votre photo tweeté par notre équipe! Nos représentants qui étaient présents ont eu l'occasion parfaite pour discuter avec de nombreux conseillers. De plus, nous sommes heureux de dire que la réaction générale a été extrêmement positive! Soyez certain de visiter notre calendrier APEXA et garder un œil sur les prochaines conférences ou nous serons présents!

Conseil de Gouvernance
Le comité de gouvernance actuel d'APEXA a réunis pour discuter les livrables à court terme pour APEXA ainsi que la vision à long terme. Surtout, cette réunion a été utile pour les membres du comité de gouvernance pour s'intégrer au rythme accéléré qui vivra APEXA dans les prochains mois.
En terminant la lettre de ce mois, je me sens complètement à l'aise de passer le flambeau à Tonya Blackmore. Elle aura beaucoup de mises à jour intéressantes à partager avec vous dans les prochains mois et je l'espère, vous êtes aussi excité que nous de la voir dirigé cette initiative incroyable.
Sincèrement,


Chris Murumets
Co-Fondateur, LOGiQ3