I like to think of our monthly newsletters as quick pulse checks. As you know, APEXA is tasked with connecting an industry, so 2016 is a BIG year, not only for my team, but for our industry. Yes, things are going to change and it's time for things to change, it means progress is upon us. Have a peek at some of our key milestones from the month of May:
The Final Sprint
In the month of May, APEXA continued to work through the final sprint of the build. In June we will be excited to officially announce the completion, so stay tuned for that. In the meantime, our team worked through the phase I and phase II launch plans for later in the year, as well as planned out the user acceptance testing and training dates which will kick off later in June.
Compliance, Compliance, Compliance
APEXA is compliance so there is no surprise that we spend a lot of time collaborating with compliance professionals in the industry. In May, we met with the compliance leads from our group of nine initial clients to give them a guided tour of the system to ensure that there is no compliance rock unturned.
We also led a panel discussion at the CLHIA Compliance & Consumer Complaints Conference in Halifax. It was nice to be back in my hometown taking in the fresh ocean air. Our session drew a larger than expected crowd which left the conference team scrambling for chairs but we were happy to find a seat for everyone and provide a Carrier and MGA view of the benefits APEXA. And talk about an engaged audience! We had more questions than time and we're thrilled to have so much interest in what we're delivering.
Thank you to Kim Hayes, Director, Distribution Compliance from Manulife and Kim Russell Director, Compliance from PPI for being the spokes-women on our panel.
Events, Conferences & 2016 Horizon
On May 25th, our team attended the annual Canada Sales Congress in Toronto at the Allstream Centre, a conference with over 1000 advisors! Our booth in the exhibit hall was a success, with several advisors stopping by to get their photos taken with our very own life-sized Advisor Adam! Congrats to our lucky winner from Manulife for tweeting her photo and winning a Fitbit!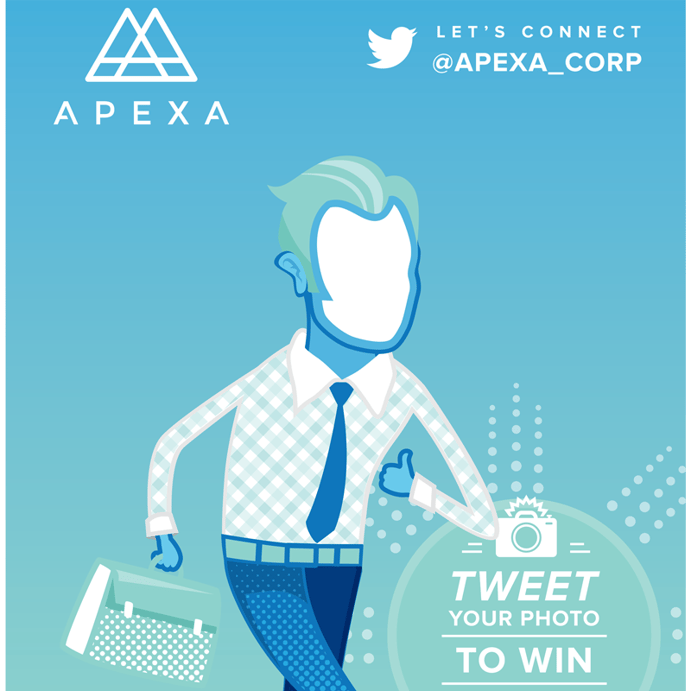 In the month of June, I have been invited to speak at the Deposit + Insurance Professionals Conference in Niagara. This presentation will feature a spotlight on APEXA and how our model will impact the 70%+ of deposit brokers who also hold a life licence. I will be happy to share insights from this presentation in our June newsletter.
Other important dates around the build and launch of APEXA for the remainder of the year include:
June-August: Training, Internal Testing and User Acceptance Testing
September: Official Launch!
October & November: Monthly rollouts for Phase II Carriers & MGAs
A major shift is coming to our industry and we're proud to be leading the way with the support and collaboration of key MGA's and Carriers. We invite you to join this movement or reach out to learn more about APEXA and how you can get onboard and become, Simply Connected!

Sincerely,
Tonya Blackmore, APEXA
Chief Executive Officer