A Message from the CEO:

APEXA is scaling up to bring on up to 60 new MGAs and Carriers in 2019 as the industry moves toward submitting all new Advisor contracts through APEXA starting January 1st, 2020. Learn more about what's to come by clicking here.

Tonya Blackmore

CEO, APEXA
APEXA on the Road!

As members of the APEXA team continued to travel across BC, Alberta, Ontario, and Quebec to meet with new clients this month, we also had the opportunity to engage in some seasonal events with existing clients during the holiday season.
It warms our hearts to see our MGA and Carrier clients include a charitable take on celebrating the season. While visiting with them we saw and took part in toy drives, food drives, and joined in the giving spirit with our own gingerbread house build for charity.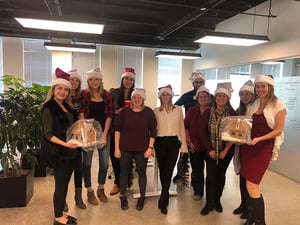 It's that time of year when you stop and recognize how fortunate we are and how our industry truly impacts and serves so many people. Our team had the chance to chat with some of those impactful industry peers at the IDC WIN Kick Off 2019 events in Mississauga, Calgary, Edmonton, Montreal, and Vancouver where we talked about APEXA and discussed the progress we've made over the last year.
Not only were we on the road, but some of our clients were as well when they travelled to our head office in Toronto for training on how to use the system with Barb Boothe, our Director of Training. It was great to spend some time with our valued clients and to show them how to reap all the benefits of the system at training.
Stay tuned for updates as those clients move from trainees to new APEXA users!
| | |
| --- | --- |
| | From Paperwork to Paperless: A Vision Becomes Reality |
| | We are excited to share that key MGAs and Carriers have announced that APEXA will soon be the sole avenue to process distribution contracts. Learn how and why APEXA is changing the life insurance landscape and what to expect. |
| | |
| | |
| --- | --- |
| | Change is Coming… So How Do You Make Your Team Want it? |
| | We have talked about how change can be good, even though at first it seems overwhelming. Change within the workplace or team has even more nuances to consider as it impacts many people in different ways. Discover the ADKAR change management model and how you can get your team to buy in! |