A Message from the CEO:

You don't even need to ask, we've got your back. That's the essence of APEXA. We take care of monitoring compliance and sending you alerts so you can focus on other, more important things.

Learn more about how APEXA helps in today's compliance landscape in our blog "Today's Compliance Landscape: Where Does APEXA Fit In?"

Tonya Blackmore

CEO, APEXA
APEXA Nation is Growing!
We are excited to share that Carte Financial Services Inc., Customplan Financial Advisors Inc., Metro Direction Financial Inc., and PROLINK are all now officially live on APEXA! Welcome to the #APEXANation family!

APEXA on the Road!
This month, our Training Team had the pleasure of hosting training sessions with BMO and The Gryphin Advantage Inc. in Toronto as well as Boulos Financial Group in Quebec.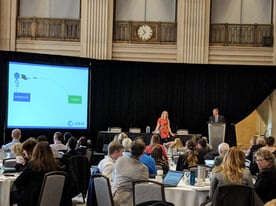 Members of the APEXA sales team also attended BridgeForce Financial Compliance Days in Woodbridge and Ingersoll to discuss the changing compliance landscape in Canada's life insurance industry.
The APEXA team is gearing up for a busy and exciting year onboarding new clients following the industry-wide announcement that all new Advisor contracts must be submitted through APEXA in 2020.
| | |
| --- | --- |
| | Today's Compliance Landscape: Where Does APEXA Fit In? |
| | With the importance of compliance growing in Canada, it's essential that you don't overlook APEXA's compliance benefits. Discover APEXA's compliance capabilities and how it can help your team. |
| | |
| | |
| --- | --- |
| | Ability is part of the Recipe for Successful Change Management |
| | Your employees' abilities impact your organization's capacity to carry out change. To manage change successfully it is important to leverage their abilities as best as possible. Read this blog to learn tricks to do so effectively. |