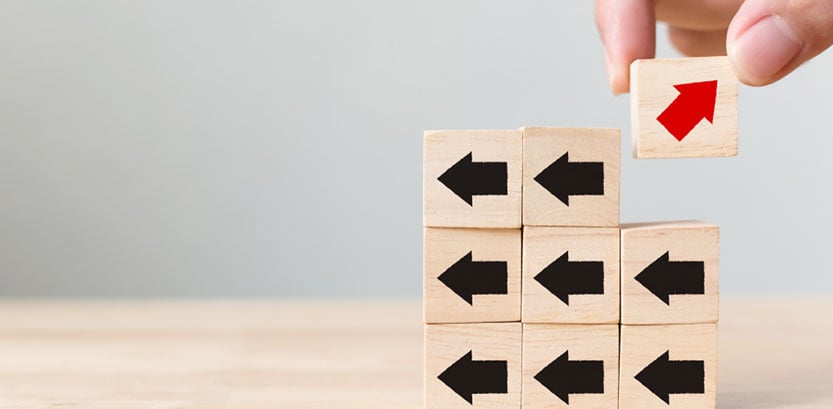 Change is challenging. It happens everyday. It is unavoidable. But it is manageable. Once you know how to manage it, the anxiety and dread we typically associate with deviating from the routine will start to dissipate. Some changes are small, like changing a brand you are used to, or taking a new route to work. But, there are also bigger changes, like adding a new pet to the family, relocating to a different city; or even process changes at work that affect how you perform in your role each day. Regardless of the scope or impact a change will have on your work or personal life, it is not something that needs to be feared if you are well-equipped to handle it.
But why do we have to change? Things are fine…
Change can evoke a number of feelings including anxiety, anticipation, concern, gratefulness, worry, happiness, confusion, the list goes on. But whatever the feeling that a change to the daily operations of a workplace elicits, we are hardwired to default to our preconceived notions of 'how things are', meaning out brains are designed to reinforce what we already believe. Let's put it into perspective: think of something your team does most days, or even every day…There is a reason why this is a recurring process…And the reason is one of the following:
it achieves a desired outcome
it seems efficient
it is enjoyable
it uses existing resources
it was propagated to be "the right way"
its has always been done this way
Change is something people like to avoid, but when it's staring you in the face like an Uber in the taxi era…you have no choice but to adapt. Change means letting go; in essence, we are losing something. When we really get down to the nitty gritty and examine 'tried, tested and true' processes, the truth is it may be time for change. People can lose self-confidence when faced with change because they knew a familiar process, they practiced it and, over time, became experts. They were valued for what they did and that knowledge made it easier for the team to complete their tasks or even excel. But, once the initial growing pains associated with any major change in an organization have passed, oftentimes you will find that said change was made to increase efficiency, promote productivity, or help the organization to perform better. Sometimes, you just need to let it sink in and be open to reaping the benefits the change was intended to produce.
So how do I help my team prepare for change?
Over the course of this blog series, I will focus on one key change management tactic in each piece. The first tactic is awareness. Communication is key to providing people the information they need to consider joining, supporting or embracing change. People must understand why, and this understanding will help mitigate some of the negative feelings associated with change.
When faced with change, you must ask yourself, both from your own perspective and from the perspective of your employees:
What is the nature of the change?
How will it impact me? My team?
Why do we need this change?
How does it make things better, and how does it help me? How does it help my team?
What are the risks of not implementing this change?
Knowledge is power. Once you have all the information you need about the change, you can devise a plan of how to best approach and integrate it into your life.
If you are leading a change within your organization, you must be prepared to answer questions from your team. Ensuring you are aware of the reasons behind the change and knowing how this will impact your team, as a whole and individually, is essential. You should have the following questions answered before implementing a change:
Know your audience – who will this change impact?
Why is the change important to your organization?
What impact will this change have on your team in terms of morale, processes, effectiveness, productivity, and structure?
What roadblocks do you foresee encountering as you implement this change?
When communicating this information to your team, have a plan in place ahead of time. Ask yourself, who needs to be the source of information? Important messages should come from the top. For example, announcing that your organization is switching from paper-based operational methods to an efficient, digital model (APEXA!) should come from the CEO, as it will impact everyone in the company and how they perform their roles on a daily basis. This message then needs to be supported by the team manager, as they may better appreciate the direct impact within the team. Smaller changes, such as changing the internal processes to book boardrooms can come directly from a team manager.
With change comes questions, meaning information and support should readily accessible; it should come from people who are available to answer questions and whom your team feels comfortable talking to. Know that strategy clarification and public forums for dialogue can be supported by executives, while team impact conversations and one-on-one conversations can happen with the direct supervisor or manager.
There are more steps to come regarding how to best manage change within your team but know that awareness comes first. Equipping your team with relevant information about a change is the first step in setting your organization up for a successful transition.
A thoughtful approach and clear, planned communication can go a long way to making change a more pleasant experience.
---