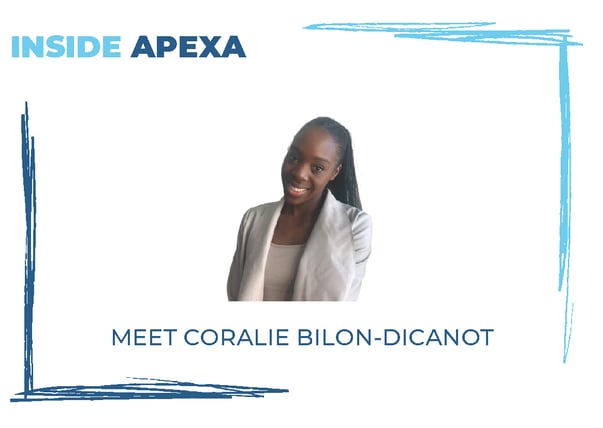 Hi, I'm Coralie! I've been with APEXA since 2019 as a Client Implementation Lead.
My journey to APEXA
A little over six years ago, I moved from Paris to Montréal, Quebec, to study for my master's degree in Management Science. Despite all my planning, by the time I arrived in Canada, I found it was quite an adjustment from the perspectives of school, work, and life. Needless to say, I was intrigued and set to explore Montréal over the next three years through school and some work as a project coordinator in the fashion industry.
Prior to that work experience, my first job was in the product and casualty insurance industry, where I worked for a mutual insurance company for a few years, starting at age 16. That experience exposed me to the stability of the insurance industry. My combined professional experience, plus the knowledge that I had acquired through my master's degree, made the Client Implementation Lead role within APEXA the perfect space to showcase all my skills.
What I do in APEXA
As a client implementation lead, I help clients implement APEXA into their environments. This involves creating, sharing, and managing each client's project plan, starting from the Project Kick-Off meeting to the final point when the client can successfully use the APEXA system. A vital step in this process is coordinating both the client's and APEXA's resources to ensure that each person is well equipped to execute and deliver a project on time.
My goal within APEXA is to ensure that all client-facing and eventually IT projects run smoothly. One way that my role guarantees this is by facilitating the onboarding process of Insurers and MGAs to APEXA and providing them with the required expertise to onboard their Advisors. The scope of each project is extensive; therefore, I always approach it from the angle of change management to ensure that each client has a great experience that is as close to ideal as possible. I enjoy bringing order to what may appear as chaos. What gives me the utmost joy is organizing all the moving parts into a clear plan that everyone is excited to execute.
A constant source of motivation for me is my clients' satisfaction with how smoothly they can operate their daily activities while consistently bringing on Advisors. I consider their ability to embrace change, willingness to learn new skills, and overall adaptability all perks that make our collaboration seamless.
My go-to productivity trick
My to-do lists are a sight to behold. I take pride in having well-categorized monthly, weekly, and daily lists. After receiving each task, I assess them by priority and arrange them accordingly within my list. As the week progresses, I add more items to my daily lists. The process of creating and organizing my lists is therapeutic and fills me with the confidence that I can achieve the laid-out tasks.
Once I get into my tasks, I like to block out all external sounds by listening to instrumental music at a high volume. The volume, combined with the absence of words, enables me to deepen my focus and get through my tasks efficiently.
My dream skill
I grew up in a household with traditional Caribbean music as a daily anthem. My father used to be in a Zouk band that took him to many places and events. He live-performed at weddings and many other social gatherings. He influenced my love for music. My passion for music has translated into my current dream of becoming a #Beatmaker of drill, rap, and other musical genres.
If I could wake up one day with a skill, I would absolutely want the ability to create instrumental music that I could sell to artists and then tour the world and DJ at parties and events. A close second is learning how to make delicious vegetarian versions of Caribbean food. I love Caribbean dishes, and I look forward to a time when I can recreate them to retain their flavor and nutritional components and share them with family and friends.
Away from work, you can find me here
On a weekday evening, I take the time to reflect on the day's activities. I relax by dedicating time to cooking and watching TV. I love silly humor that borders on the nonsensical, so I enjoy watching comedy shows and movies like "How I Met Your Mother" and "Just Go with It." My current weekends are much like my weekday evenings, but with an addition. Since I recently moved to a new neighborhood, I explore it by taking long walks and making note of places of interest that I would like to visit once everything is back open.
Before the pandemic, my friends and I would explore the diversity of the city of Toronto through food, both at new restaurants and those we had previously patronized and greatly enjoyed. As a foodie, I could spend a whole day – from brunch to dinner – going restaurant-hopping.
I also love to travel – I am the non-adventurous traveler who likes to lie on the beach, relax, eat good food, and drink good wine. I grew up visiting Martinique on a regular basis and exploring the south of Europe. That travel exposed me to the beauty of culture, which is often displayed in architecture around the world. Because I love rich food, I enjoy trying new cuisine whenever I travel. One flavor forever ingrained in my memory is the La Taquise poutine from a Montreal restaurant called La Banquise. Whenever I visit Montreal, I must always find the time to enjoy that delicacy.
Subscribe to the blog to get to know the rest of the APEXA team.