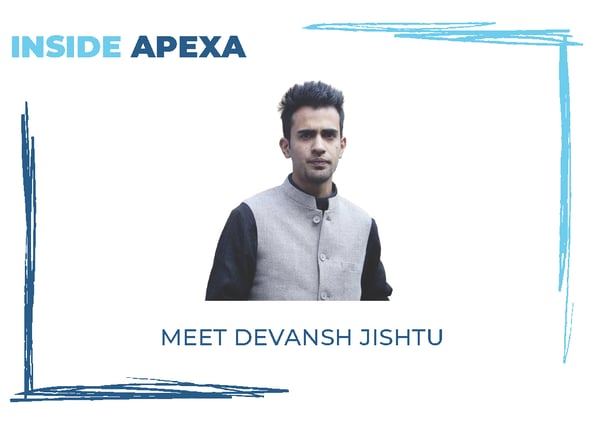 Hi! I am Devansh, and I have been with APEXA since March 2019.
My journey to APEXA
When I joined APEXA as a part-time employee, I was studying Business Analytics at George Brown College. Before that, I lived and worked in India as a Technical Analyst/Software Developer who also managed clients' expectations within the Standard Chartered Bank. Toward the end of my three and a half years in that organization, I realized the need for a career change.
To go into my field of choice, I had to acquire a master's degree. This led to my arrival in Canada for a master's program in 2018. By my second semester, I was working at APEXA. It has not felt like a day of work, primarily because I work with a fantastic team that has fast become family. This year, I transitioned to a full-time employee, and I am excited to continue participating in the growth of APEXA and our client's businesses.
What I do in APEXA
My role at APEXA largely centers on ensuring clients' smooth transition and journey through APEXA. I help new clients build agreements and load data onto the system. I also work with existing clients to assist with data loading, contracting, and any other concerns they might have while using the system. Additionally, I test for new releases to make sure that the system runs smoothly.
With consistent effort, my goal is to make APEXA a seamless experience for our clients, including Advisors. It would be an achievement to empower our clients to efficiently advance their businesses toward their goals. I hope to accomplish this by demonstrating the benefits of digitalization to our client's processes. Because much of our clients' time is spent on APEXA, I would like to increase their gains and positive experiences on the platform. My overarching desire is to see all parties enjoy APEXA's seamless, user-friendly interface.
My driving force comes from the joy of solving complex problems. Rubbing minds with the team to find the best solution is a source of motivation. Brainstorming and troubleshooting with the team has definitely given me a serotonin boost!
My go-to productivity trick
My routines for enhancing productivity differ depending on being at the office or working remotely. While in the office, I reach for my noise-canceling headset first thing every morning so that I can get my head into my tasks for the day. Blocking everything out always sharpens my mental focus!
Working remotely has me spending considerable time at my desk without specified breaks. To resolve this, I take short breaks on the hour or save them all up and cash them in every third hour. It is a fun little game for me to stay on top of maxing out on productivity, then doing a short five-minute lap in my apartment. It is a small thing, but I feel lighter mentally and eager to undertake the next task after that quick break.
In addition to being mindful of taking breaks, I jot down the tasks that I need to get through for that day, check my emails, and then get into it. All of this combined means I never have a dull moment in my day.
My dream skill
I am a #gamer who coaches others to play video games. The way certain gaming systems are set up, new users can add older players to a game to walk them through a live game. The job of game coaches is to share their thinking behind each strategic move they ask new users to make as the game progresses.
I would love to be an expert at discernment! The ability to quickly differentiate right from wrong could play out in certain scenarios. One is being able to tell a person's intentions – whether good or bad – toward others. I think this is a handy skill that could save everyone time. Discernment could also serve in other scenarios, such as building habits by being able to instantly see if a habit will yield positive results and not lead down a different path. So many facets of life could be improved with this skill. With it, I could hone my client advisory skills to quickly connect with and address clients' needs.
Away from work, you can find me here
… In front of a screen playing video games. The seven years I have poured into gaming have absolutely paid off. Since 2014, I have played professionally in a number of DOTA (Defense of the Ancients) tournaments and have won several prizes including cash. My passion for gaming has also kept me curious about the tech world. I have been into tech since I got my first computer at age nine. In school, I wrote a program that would play tic-tac-toe with people. I set it up so that the human players would only lose or draw the game, but never win against the computer. No one believed that they could not win, so after challenging my classmates to battle the computer, I walked away richer than my nine-year-old mind could imagine!
Through the years, I have always kept abreast of innovative tech startups and their objectives to disrupt the markets within which they play. Other than that, I enjoy watching comedy shows on Netflix, especially Friends, Modern Family, and the Fresh Prince of Bel-Air.
Subscribe to the blog and be among the first to meet the APEXA team.