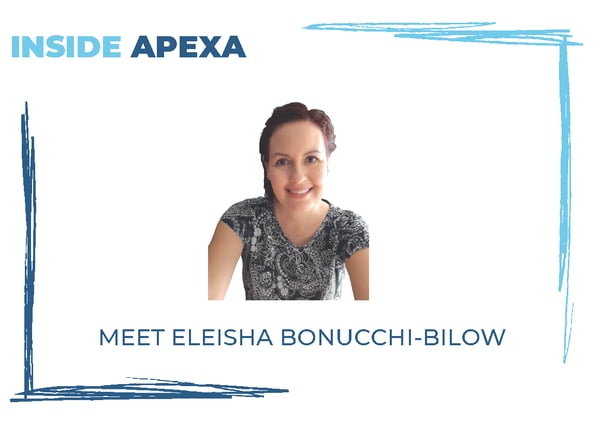 Hi! I'm Eleisha Bonucchi-Bilow, and I've been with APEXA as a Client Support Specialist since 2018.
My journey to APEXA
Straight out of university, I was hired by Empire Life. During my five years there, I worked in the Investment and Distribution Services departments. My role in the Investment Department involved processing surrenders when clients wanted to make withdrawals from their RSPs and investment accounts. Once approval was obtained, I processed cheques for the clients. After that role, I moved on to the Distribution Services/Advisor Contracting department. There, I maintained the submission of Advisor's renewed licences and E&Os, updated their profiles in the back-office system, issued codes that Advisors needed to complete transactions with Empire Life, and managed Advisor transfer from one MGA to another.
While working on a project in that department, I discovered APEXA and found the concept behind it interesting. I learned how to use APEXA by reading manuals but later underwent formal training. During the training period, I had a lightbulb moment realization of APEXA's value and how much I wanted to become a part of the organization. Then, I emailed APEXA, expressing my interest in learning more about the company and its software. Through the interview process, my meetings with the team cinched my initial idea about the organization's culture and values and their alignment with mine. By June 2018, I had joined the APEXA team.
What I do in APEXA
I work as a Client Support Specialist at APEXA. My role includes handling MGA tickets that are submitted when they require assistance with the APEXA system. These tickets range from issues covering contracting, In-Trust, onboarding, and invitations to APEXA. MGAs are my primary clients. The service I offer assists them by digitizing and streamlining their contracting processes. Maintaining Advisor supporting documents is an auxiliary aspect of my role. Although I work predominantly with MGAs, I also offer technical support to the Advisor service team whenever challenges are escalated.
Being part of a well-oiled team that is aware of expectations and stays on schedule enhances workflow and promotes satisfaction among our clients—a priority at APEXA. Helping each client become fully independent and actualized by the system's performance is my motivation. I achieve this by ensuring the process is smooth for the clients and empowering them with the necessary tools to navigate the APEXA system.
My go-to productivity trick
Lately, I have been keeping track of activities and tasks by writing them down. With a to-do list, I can stop worrying about remembering to do each task because I have it written down and will get to it in due course. Afterwards, I schedule time on my calendar for each activity. I also find that assigning a goal to each task and then setting a timer to complete it focuses my attention when it is time to begin.
My dream skill
If I could wake up and become an expert at anything, I would choose two. The first is the ability to speak multiple languages. Having previously tried and gotten derailed, I am again attempting to learn French and hoping for success. The second is the ability to understand toddlers' behavior and effectively communicate with them so that they know the importance of eating their dinner, including greens, and staying away from dangerous objects.
Away from work, you can find me here
… cooking or planning our next family activity. As a family, we like to take advantage of seasonal activities such as walking in pumpkin patches and taking in the leaves changing color as we stroll in the park. Regardless of the weather, I can also be found enjoying Thai food on the weekends. Other than these activities and interests, I am currently reading parenting books on child development. I am also taking two courses: one on French and the other on speech development for children.
I also enjoy exploring new cities and countries. Morocco is currently top on my list. As a vegan learning to speak French, I am excited to converse with the locals as I eat my way through Moroccan cuisine. Hawaii is a place that I also look forward to exploring one day. My favorite show, Lost, was filmed in Hawaii, and I wouldn't mind getting lost there. Finally, despite not engaging in karaoke, I do love to serenade my toddler with Twinkle Twinkle Little Star at bedtime.
Subscribe to the blog to get to know the rest of the APEXA team.