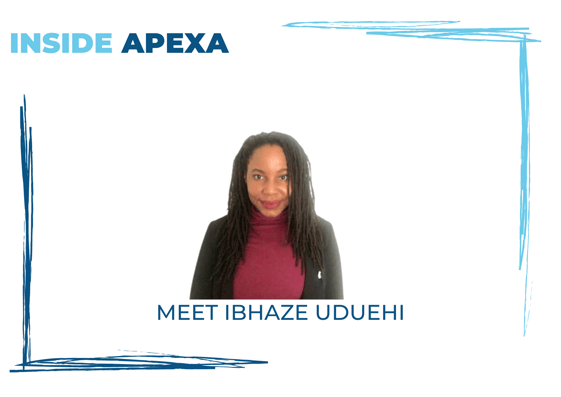 Hi! I'm Ibhaze Uduehi, and I've been with APEXA as a Marketing Communications Specialist since September 2020.
My journey to APEXA
It's been a whirlwind! I've explored several aspects of marketing communications – copywriting, research, social media, and content marketing. With my background in language and literature, I've always been drawn towards storytelling and have enjoyed sharing brand stories with their customers throughout my career.
Working in agencies – creative and research – and finally in the finance industry at a bank paved my path towards my current role at APEXA. I moved to Canada in 2019 (great timing, right?), and while looking for opportunities on LinkedIn, I found out about APEXA. With some previous experience creating content that promotes the e-products and software of an international bank, I was excited to work with APEXA to help position the software in the life insurance industry.
After sending in my application for the bilingual marketing communications specialist role at APEXA, I went through rounds of interviews, completed an assessment, and got the job – all remotely and efficiently, I might add (thanks, team!). I've been at APEXA for almost two years. My journey with the team has matched my expectations – they've been supportive with onboarding new members during the pandemic, united towards onboarding clients, and making the system user-friendly for them and their business.
What I do in APEXA
As a marketing communications specialist at APEXA, I promote APEXA to our clients and the industry in line with the company's business goals. That entails creating several types of content in different formats – system-specific content, value-add content, and content that shows our personality. To achieve this, I do a fair amount of research about the APEXA system, our clients, the life insurance industry, trending topics, and more.
My role interacts with other teams through cross-collaborations for various reasons, including content and support. Due to each team's interaction with the system or directly with clients, I work with team members to get useful content that's then shared with our clients, the industry, and our social media and blog subscribers. In fact, this Inside APEXA blog series is one of the pieces of content that the APEXA team provides.
The content I create comes in different formats, copy, graphics, and videos. These are published and distributed across our online channels – blog, newsletters, and social media. I provide support to the APEXA team members who prepare and present webinars – these webinars dive deep into the system and walk users through how to use the software. Once done, I edit the webinar recordings and share them with our clients.
My goal at APEXA is to assist with promoting the brand to the extent that it's firmly positioned on the life insurance map. One of several ways to achieve that is by providing excellent customer service, listening to the customer, and providing them with information that meets and answers their needs.
.My go-to productivity trick
Two main things keep me productive – working out first thing in the morning. I get up and go before I have the chance to talk myself out of it – honestly, I don't think anyone likes working out; we all just like the feeling that follows a good session! After my workout, I always feel awake and sharp. Then, I proceed to go through my to-do list for the day. Lists help me prioritize and keep me on track with my tasks.
My dream skill
I would like the ability to speak all the languages of the world and understand the cultural nuances of each one. On top of the fact that I love learning new languages, listening to people and understanding what is being communicated is, I believe, an essential skill.
Away from work, you can find me here
. . . hiking trails near me, reading a novel, catching up on my latest TV shows, trying out new bars and restaurants with friends, planning my next international trip, or going on local road trips.
Subscribe to the blog to get to know the rest of the APEXA team.