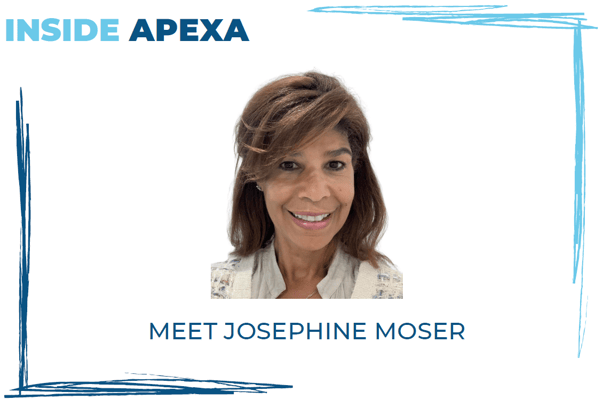 Hi! I'm Josephine Moser, and I've been with APEXA as a Customer Support Manager since 2019.
My journey to APEXA
Years ago, I moved to Toronto from Montréal and quickly found work in the insurance industry. I was a Direct Marketing Assistant for Sun Alliance, which was sold to North American Life and then to one of the large Insurance companies in Canada. One of the things that I enjoyed about that role was the feel of a small company in a big corporation. There are always opportunities in such environments. My team collaborated with the Marketing, Claims, and Underwriting teams while offering specialized plans for associations. This required a vast knowledge base, as the team also responded to questions on a variety of products such as life, travel, disability, critical illness, health, and dental insurance. In late 2010, the organization underwent restructuring, which led me to expand the business to Manilla in the Philippines. Meanwhile, my business unit was being moved from downtown Toronto to Halifax. All of this involved considerable external and internal travel for me.
Subsequently, in order to advance my career, I interviewed with three quite different organizations. Much like the Goldilocks story, I found that one was too big, one did not feel like a good culture fit, but the third was perfect. Once I met with the APEXA team, I built a rapport with them and felt that I would be at home learning from the female leadership of a company whose values align with mine. Before joining APEXA, I had led large teams in my previous roles. However, I currently lead a much smaller team. I find that a small team fosters trust among members, facilitates better communication, collaboration, and development.
What I do in APEXA
At APEXA, I lead the Customer Support team - the Document Validation team ensures the accuracy of the documents that the Advisors upload to APEXA, the Advisor Support team services our Advisors through calls and emails with questions and concerns about onboarding to the APEXA platform, and the Client Support team services our MGA and Carrier clients who require additional support on contracting, agreements, and so forth.
The Document Validation team reviews the compliance documents, the Advisor Support team provides Advisor profile guidance, and the Client Support team works through the contracting procedures. All teams work together to finalize the onboarding process, while also recording enhancements requests and escalating system bugs.
We receive questions that come into the Advisor call center which seem to indicate that some callers are not entirely comfortable with certain aspects of computers. Since we aim to simplify the onboarding process for all parties involved, we spend time with each Advisor as we guide them through that process.
The internal-facing client support team works with our MGA and Carrier clients, who are familiar with APEXA as they have undergone training. Such clients tend to reach out with more complex questions. We receive their inquiries in the form of tickets. Tickets are similar to emails, but they allow for additional transparency because they have access to the progress/status of their inquiries.
Another area of focus for me is the Advisor Help Desk, which is partially serviced through a vendor. My goal is to support our clients seamlessly through whatever challenges they might face with the system. Ultimately, I want to help APEXA to get all these different communication paths open and running successfully.
I am happiest when I can find winning solutions to help my team, which supports our clients in navigating APEXA most efficiently. I'm naturally curious and understanding the "why" provides direction in our solutioning. An aspect of my job that gives me great satisfaction is when we are faced with a new or complex situation, that impacts our client, working through the challenge moves the team and me to troubleshoot effectively in a fun and collaborative atmosphere.
My go-to productivity trick
A trick that our CEO Tonya Blackmore shared with me is Trello. Ever since I learned about it, I have used it to create my to-do lists. I find it very helpful—I keep track of what I need to do and track the progress of my tasks and those of my team members. Trello gives me a clear visual of priorities, which helps collaborate and organize my tasks in different statuses: in progress, completed, expecting feedback, and so forth. Multitasking can be tricky, but Trello makes all tasks visible. It has been a great productivity tool for me so far.
On top of that, when I need to get into the "zone", I enjoy total silence to focus on the task at hand. Another highly effective trick is taking a breather. When working on a project plan, or an escalated complaint, I pause to ensure I have captured all the requirements before hitting send. If time is of the essence, it helps to take a step back for a minute and maybe get into a different activity. Sometimes, that break enables me to bring in elements I may have missed or even develop new ideas to help resolve the challenge.
My dream skill
A skill that I currently have is the ability to revamp an entire room in a short time. I can upgrade any space to a completely different look and ambiance. My family relies on me to redesign their homes.
However, a skill that I would love to wake up with is playing any musical instrument and singing like a professional. Musical instruments produce an international language that everyone can connect with. One does not need to understand anything to enjoy music. I would love to be able to pull out a guitar or a violin—any instrument really—and perform music people will enjoy.
Away from work, you can find me here
Training for marathons! A certain level of resilience, mental toughness, and an almost superhuman effort is required to complete marathons. I love pushing myself that way and building inner strength. The training also helps me navigate tricky areas of life.
Additionally, I love creating an item from scratch by knitting. Cooking is not my strength, but I enjoy it when I have the creative inspiration to make an interesting dish. Other activities I enjoy are yoga, spending time with family and friends, traveling, floating in my pool, and reading a good book. A few books I have read recently that struck a chord are The Alice Network, The Great Alone, and Anxious People.
All in all, to have a good time, I only need to be surrounded by good people, good food, good music, and good literature.
Subscribe to the blog to get to know the rest of the APEXA team.