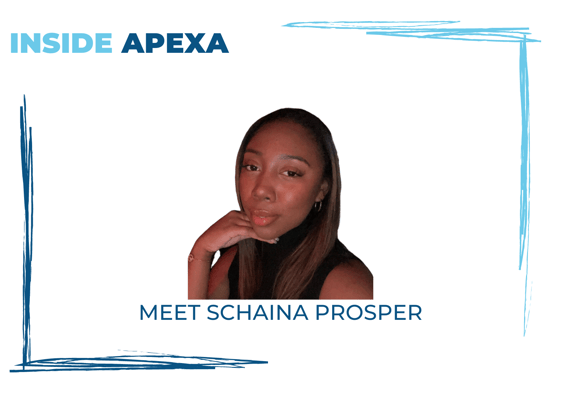 Hi! I'm Schaina Prosper, and I've been with APEXA as an Advisor Support Specialist since September 2021.
My journey to APEXA
Before joining APEXA, my first job was with the Canadian Government's Immigration, Refugees, and Citizenship Department. I worked there for about a year and a half as a political analyst. My degree was in international studies and modern languages in the political science field. It was during my last year of school that I started working at IRCC. Not long after graduation, at the beginning of 2021, my contract with IRCC ended. Prior to that, I had begun taking an interest in the FinTech industry. Therefore, when I saw an opening to fill the Advisor Support role at APEXA, I was happy to submit my application. A few elements that I took into consideration were workplace culture and the possibility of remote work. My expectations working with the APEXA team have been surpassed – I love the flexibility it offers, how supportive the team is, and most of all, my interaction with clients as I guide them through the system.
What I do in APEXA
As an Advisor Support Specialist, my role involves assisting Advisors to navigate system challenges by phone or support tickets. Here's a snapshot of my typical day:
I log into the phones to make sure I'm ready to take calls from Advisors.
I look through the APEXA support system (Jira) for Advisor or MGA support tickets. Being bilingual, I have French tickets directed to me as priorities.
Along with my regular activities, I provide support for the Document Validation team.
My job as a Political Analyst allowed me to develop critical thinking and problem-solving skills that made it easier for me to troubleshoot with Advisors. My approach with Advisors is to resolve challenges together – I encourage them to work with me so that they can walk away with actual step-by-step experience rather than theoretical knowledge.
I envision my career at APEXA evolving into the Customer Support Specialist role. Overall, my goal is to facilitate the use of APEXA within the industry. The feedback from Advisors that I've interacted with has been positive – they see the value in APEXA as the system streamlines their processes and frees up time, which they can spend prospecting.
My experience with APEXA has been enlightening and satisfying. I enjoy helping and interacting with clients in whatever way possible. Knowing that I'm helping people motivates me the most. Adding to that is a great culture and a supportive team. Having positive people around me positively impacts me and subsequently makes my output positive!
.My go-to productivity trick
I love to have a good morning routine, which means an early wake-up. When it's nice outside, my morning begins with a walk while listening to music and then a coffee, my skincare routine, and finally, stretching exercises. All of that calms and centers me, putting me in the perfect frame of mind to help people.
My dream skill
I make a mean Tuscan penne pasta chicken. It's so good that my family demands it at least once a week, which I don't mind because I love cooking and even better, I enjoy great food! On a different note, I feel like I was born to wear heels. Ever since I was a child, I would climb into and comfortably strut around in heels all day long while imagining myself as a contestant on America's Next Top Model.
If I could snap my fingers and become great at something, I would love to be a world-renowned writer. I want to create stories that touch people. I would also love to bake perfect pastries and bread.
Away from work, you can find me here
. . . reading books. Harry Porter made me want to become a Gryffindor student at Hogwarts, learning all about magic and spells! I can also be found writing poetry. I like to imagine strange places and people and then bring them to life in my stories. Currently, I'm thinking of writing a poem about the Northern Lights – viewing them is at the top of my travel bucket list.
Since the beginning of the pandemic, I've been going on hikes with my friends once a week, usually on Sunday mornings, and then getting coffee. When I take solo walks, I play music. My favourite genres are country, Christian, and Caribbean love songs. I may not sing karaoke, but I challenge anyone to a singing duel of Leann Rimes I Need You!
If I'm not doing any of the above, I'm usually at home rewatching one of my favourite TV shows – The Nanny, The Office, or Modern Family.
Subscribe to the blog to get to know the rest of the APEXA team.