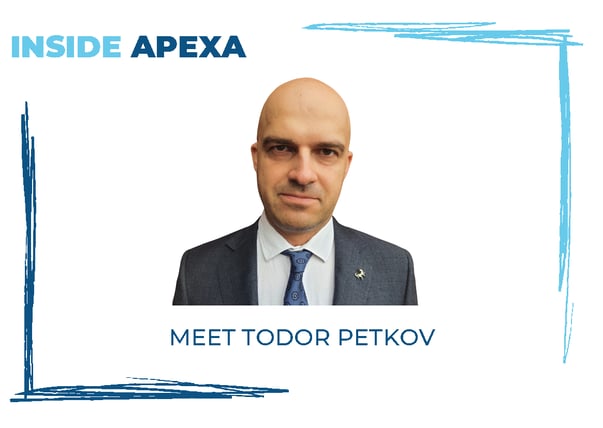 Hi, I'm Todor, and I've been with APEXA as a Document Validation Specialist since 2019.
My journey to APEXA
I've always worked in the financial industry, with most of my experience being in banking. My first job in Canada was with a bank in Quebec. I gained considerable administrative experience, which I carried over into my next role at RBC. There, I worked as a loan officer verifying the suitability for loan applications. Both opportunities exposed me to specific banking software that I'd never used before. This created an appetite to explore other industry software and possibly work in an organization that serviced the industry through its software platform. Seeking out new challenges led me to the reinsurance industry, which, in turn, led me to APEXA. The APEXA environment gave me the opportunity to further develop my skills and acquire knowledge in the industry while servicing clients. APEXA impressed me with its size, its impact on the industry, and its tight-knit community. The positive culture at APEXA is also a motivator to keep improving and finding new ways to facilitate our client's businesses.
What I do in APEXA
My role at APEXA mainly consists of validating documents that insurance agents have submitted. These documents include licenses, E&O certificates, and banking information. I find that the most challenging aspect of this role is ensuring that these documents meet the requirements for each province. Additionally, I need to apply common sense when reviewing requests in the queues. For example, a name change request could simply be a spelling mistake and therefore does not require initiating a name change process.
I love working with the document validation team because, despite being a small team of four people, we strive for 100% accuracy by paying close attention to detail. Furthermore, we offer assistance to one another, thus creating a collaborative, fun work environment. I derive the utmost satisfaction from helping Advisors build their profiles with all the correct information, making it easier for them to develop and maintain their client relationships.
Currently, I'm working toward my PMP designation through online courses. I received my professional Scrum Masters (PSM) designation in June of this year. My goal at APEXA is to become a project manager. Bringing together my previous and current skills, I aspire to successfully undertake and complete specific projects toward better servicing our partners.
My go-to productivity trick
My trick is the positive attitude that I generously apply to each new day. Starting my day that way ensures that it will be a great day and that I will exceed expectations. Armed with positivity and a cup of coffee, I use Asana to organize myself and set my daily goals. Music keeps up my mood and enhances my routines.
My dream skill
Indian vegetarian cuisine is where my superpower lies – especially Indian-style eggplant dishes!
However, if I could wake up to an expert level at any skill, I would choose two – being great at everything tech including an expert at languages such as Python and Java, and an excellent carpenter. I'm passionate about the technical side of things, and that includes woodwork. Building furniture from scratch is a skill that fascinates me!
Away from work, you can find me here
Away from work, I'm active. I regularly go to the gym and run four times a week. At the gym, I do bodyweight and kettlebell workouts. I meditate twice a day – in the morning and before bed. It helps to free my mind and ground me. A while ago, I heard the phrase "true happiness lies within." That phrase about meditation prompted me to try it. I found a 30-minute chant on YouTube, tried it, and felt calm afterwards. Now, meditation is a significant part of my lifestyle that keeps me in good spirits.
I don't travel much, but I would love to visit Hawaii and see the northern lights someday.
Subscribe to the blog to get to know the rest of the APEXA team.