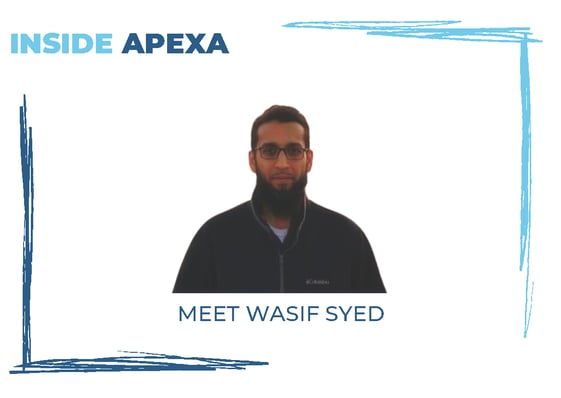 Hi! I'm Wasif Syed, and I've been with APEXA as the Director of Infrastructure and Security since 2017.
My journey to APEXA
My background is computer science, which I studied at Dalhousie University in Halifax. As an undergraduate, I enrolled in the co-op program and was placed in various large organizations in Ontario. Despite my software-oriented background, the internship placements I received were coincidentally on the infrastructure and security side. These experiences instilled my interest in this sector and led me to seek full-time employment in it.
After graduation, I began working at Nortel Networks, which, at the time, was one of the key players in the industry and a highly sought-after placement for computer science graduates. Subsequently, I joined a startup launched by former Nortel engineers that was in a wireless infrastructure space. While working there, I realized the differences in culture between a large organization and a startup, and that my growth would subsequently be exponential in a smaller setting in the infrastructure and security domain. Over the years, I've learned that startups allow one to expand skillsets and acquire new ones by wearing different hats, learning about a range of operations, and using disruptive technology to solve problems that make a real difference in people's lives.
What I do in APEXA
At APEXA, my role spans several key areas. I lead all the technical aspects of the cloud infrastructure, security, and operations. In collaboration with a team of engineers and third-party vendors, we support the APEXA SaaS platform.
As a member of the senior leadership team, we establish strategic long-term goals and I am tasked with ensuring that the APEXA platform fulfills all security requirements and aligns with the technical standards of RGA, our parent company. I lay out the infrastructure aspect of APEXA's roadmap, considering its current position and aligning with business growth and objectives. I am accountable for security assessment, risk management, and audit compliance, both internally and externally. I have led the SOC 2 security audit at APEXA annually with external auditors since we launched in 2017. Being SOC 2 compliant shows our commitment as an organization to maintaining strong internal controls and protecting our clients' assets and data.
Over the past couple of years, my role has integrated with some RGA teams, including the Global Security and Privacy, InfoSec, and Incident Response teams. Part of my role is owning, maintaining, and fostering those internal relationships to meet our objectives.
Finally, I'm part of an overarching RGA Business Continuity team consisting of several members from various business units. My role as the BC Team Leader for APEXA involves developing and testing plans to mitigate business disruption and executing disaster recovery procedures.
APEXA has evolved as the organization has grown from startup status. Now, I'm excited about the implemented strategies enabling APEXA to scale up over the next five years. I look forward to being part of that growth cycle in my role at APEXA and in my expanding role within RGA.
With startups, you're not just a number; you're part of the family and a culture that allows you to grow. That's a true reflection of APEXA. You're fully immersed in the work as if it's your own. It's a great workplace with outstanding leadership, and I'm glad to be here! Having worked for startups across diverse industries, I believe that APEXA is making an impactful difference across the insurance industry value chain through digital transformation. Operating in a challenging environment such as APEXA while performing meaningful/purposeful work that makes a difference in our clients' lives is a driving force for me.
My go-to productivity trick
Being organized and making better to-do lists. At work or at home, organizing my activities and breaking tasks into smaller chunks make life much easier and keep me focused. I picked up this skill while working in startups.
Another trick I employ is taking a pause. When I realize that I'm spending significant time and energy on a task, I take a break to reflect and ensure that I'm heading in the right direction. Structured breaks help manage my time and energy. As a fan of automation, I always aim for efficiency in my processes. My productivity steps summarized—organize, prioritize, focus, and set realistic goals.
My dream skill
Despite my interest in writing when I was younger, I haven't dedicated any time to creative endeavors. However, I would love to be able to draw and paint. My family and I are outdoor enthusiasts, and two of my daughters are fantastic artists who capture the beauty of nature wherever we go. I wish that I could also reflect on my outdoor adventures through art.
Away from work, you can find me here
. . . spending time with my family, at home, or outdoors. With four kids, family time for my wife and me is a fun, lively circus. Summertime finds us biking, kayaking, and going on beach picnics, and, in the winter, skiing and skating. I consider myself a bit of a daredevil, so I take on the more dangerous mountain bike trails and ski slopes with friends. I've been quietly advised to avoid cliff- and bungee-jumping, but skydiving is an activity that I need to cross off my bucket list. I'm inspired by my wife's late grandfather, who was skydiving in his seventies for a charitable organization that he founded almost thirty years ago. My family is deeply involved with that charitable organization because it is an important part of our faith to help the less fortunate and give back to the community.
Travel is an excellent way to learn and explore new cultures and meet new people. One destination that struck a chord with me was Turkey. It's a unique country with a blend of Asian and European cultures due to its location on both continents. I also have a strong passion for soccer and tennis but don't follow them as devotedly as I did in the past. Instead, my time has been reattributed to family and exploring the world through the eyes of my children.
Subscribe to the blog to get to know the rest of the APEXA team.