A Message from the CEO:

Purpose drives passion; passion drives growth, and growth is what APEXA has seen in 2019. We had record onboarding in October and November, and picked up a few industry accolades along the way. Stay tuned for an upcoming Special Edition recapping all of the companies who joined in 2019, as well as the new members on APEXA's expanded Board. Thank you for continuing to follow our journey and we hope you had a peaceful and warm holiday season.

Tonya Blackmore

CEO, APEXA
New and Noteworthy
APEXA Nation is growing! We are excited to share the latest clients who are now officially live on APEXA:
Welcome to the #APEXANation family!The APEXA team has never before onboarded such a large group of clients in such a short span of time, but we proved to ourselves and to our peers that we can do it! In 2020, we look forward to bringing on more clients and contributing to an industry movement we fully believe in.
Awards
APEXA was one of three companies selected out of over 100 insurtech businesses in North America to participate in the finals of a live pitch at the Efma-Accenture Innovation in Insurance Awards in the Business and Operating Model Transformation category.
APEXA's CEO, Tonya Blackmore, is passionate about the purpose and vision of APEXA. When it came time to share that passion, she didn't miss a beat and APEXA took home the Gold.
"Being recognized as the top Business and Operating Model Transformation in North America is a tribute to the industry leaders who believe in and stand behind APEXA and to the APEXA team who are very dedicated to our success. I'm really proud of what we've accomplished." says Blackmore.
APEXA was also named to the RegTech 100 for the second consecutive year. Compiled by FinTech Global and RegTech Analyst, the RegTech 100 identifies the world's most innovative companies for developing mission critical regulation technology and digital transformation strategies for the financial services industry.
Receiving recognition on a global scale is both inspiring and humbling.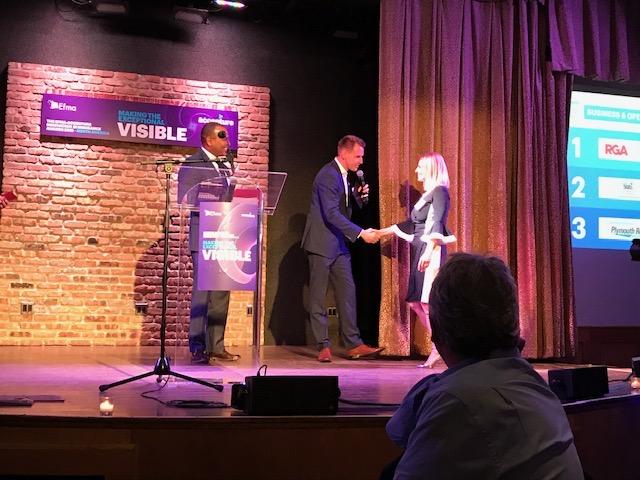 APEXA On the Road
It's always been important to the APEXA team to get face-time with Carriers, MGAs, and Advisors whenever we can. One of our most valued opportunities to do that is through attending Le Congrès de l'assurance de personnes for the last four years. This conference allows us to foster relationships with our industry peers in Quebec, but more importantly, we walk away with a firsthand perspective of what our francophone clients value.
In an effort to ensure our services meet the needs of our clients from across the country unequivocally, we have hired numerous francophone professionals over the course of the last year. In fact, 50% of APEXA's client facing implementation and sales leaders are fluent in both English and French. It is important that we are able to not only communicate with our clients across all provinces, but also that we have an understanding of their unique expectations.
The PPI Fall Symposium, held in Niagara Falls, Ontario, in late November was a memorable event for the APEXA sales team. These types of events allow us to interact with our clients and peers on a deeper level. Members of the APEXA team came away from this event with valuable takeaways and feedback. This important input from our users helps drive our future enhancements and improvements.
Barb Boothe and Sébastien Rocco, APEXA's two expert trainers, had the pleasure of working with numerous upcoming clients in December to ensure they are well-equipped to navigate the system and share their learning with their teams. Check out some of the training photos below!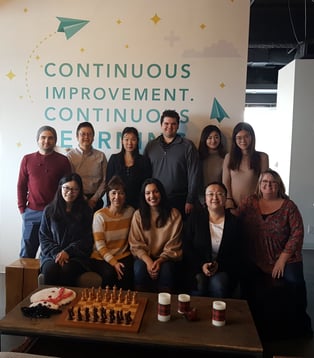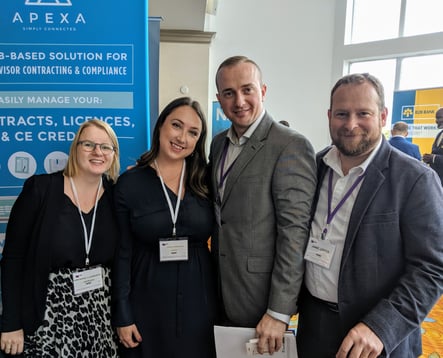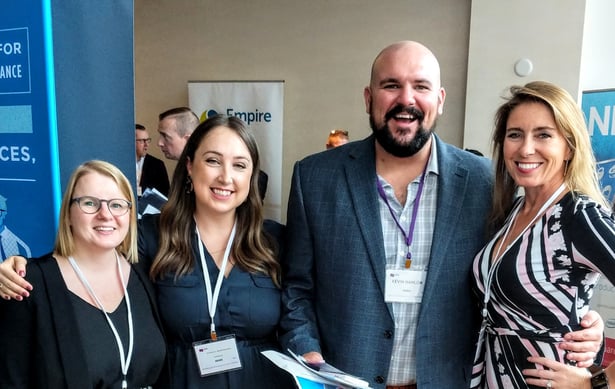 | | |
| --- | --- |
| | Momentum Through Collaboration |
| | 2019 was a year of collaboration and that is what APEXA has created and will continue to carry as we move forward in 2020. The major accomplishments from 2019 are truly a testament to the industry's commitment to be constantly improving, modernizing and working digitally. |
| | |
| | |
| --- | --- |
| | [FACES OF APEXA SERIES] Introducing Sarah Sheppard |
| | The Faces of APEXA Series brings you the inside scoop on our innovative team as they tell their stories and recount how they became part of the APEXA family. This month, learn about Sarah Sheppard, Client Implementation Lead. |