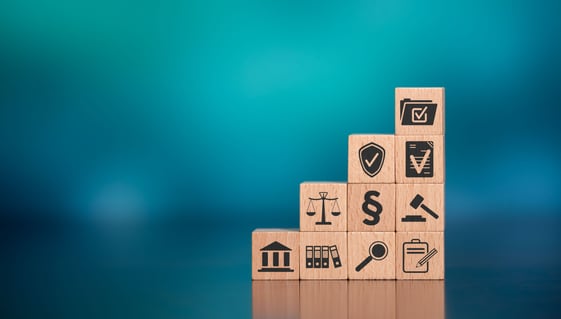 In the past year, we've covered CLHIA's Fair Treatment of Customers Guidelines with the intent of refreshing ourselves on the principles that guide life insurance practices among business partners, product owners, intermediaries, and customers.
The recurring theme among some of this year's industry events is Compliance. As APEXA is an industry solution that simplifies compliance oversight, which is part of the contracting process for Advisors, MGAs, and Carriers, we are excited to play a role in the ongoing conversation.
Compliance is such an integral part of the life insurance business that it has been built into it to protect all facets of operations across the value chain up to the end user. On top of that, a compliant organization or practice is critical for success.
As businesses become more innovative, it's important to consider the benefits of compliance with technology. To do that, let's take a glance at past, and in some cases, current methods for controlling risk.
Why Compliance Is Important
The 2016 Financial Services Regulatory Authority of Ontario Act lists three key categories emphasizing the importance of compliance in the life insurance industry:
"Contributing to public confidence in the insurance sector;

Promoting high standards of business conduct; and

Protecting insurance consumers."
In addition to the above, compliance oversight benefits the Advisor's practice in several ways, including
Protecting the Advisor's reputation.

Enabling the Advisor to avoid potential penalties for practicing without current licenses or Errors and Omissions (E&O).

Demonstrating to industry parties a suitability to practice.

Building and establishing trust with clients.

Boosting client loyalty, leading to referrals and an overall increase in business.

Expanding the Advisor's

knowledge of insurance markets and their products

through the acquisition of Continuing Education (CE) Credits compliance.

Opening up business opportunities with industry partners, including MGAs and Insurers.
Regulators and Advisor Compliance Requirements
Provincial licenses give Advisors legal permission to advise customers on life insurance.

In most provinces, E&O coverage is a requirement for practice. Distribution partners need to be advised of the following:

Insured parties

Policy number

Effective and expiry dates

Name of the E&O Insurer

Coverage amounts and details

Continuing Education (CE) Credits

: From a regulatory perspective, Advisors are required to maintain ongoing knowledge of industry legalities, the fundamentals of life insurance, and other topics required to advise the customer.

Background and Credit Checks: Advice to the customer must originate from a credible source. Periodic checks by the Advisor can be requested to confirm suitability.
Compliance Best Practices – How APEXA Streamlines Advisors' Process
APEXA aims to facilitate the Advisor's business so that it operates in accordance with regulatory and industry standards. How does APEXA assist with compliance:
Digital guarantees information sharing in real time to all parties the Advisor contracts with.

Helps the Advisor avoid lapses in license and E&O coverage by sending out automated notifications.

Validates licenses and E&O to ensure they meet regulatory requirements.

Alerts MGA and Insurer partners of renewals and updates without delay.

Conducts credit and background checks to align with industry requirements and guidelines.

Provides MGAs' and Insurers' visibility into provincial disciplinary actions.

Allows Advisors to host and share compliance documents, thereby evidencing their alignment with compliance standards.
To learn more about APEXA, visit apexa.ca. Want to join APEXA? Contact your MGA to get started.