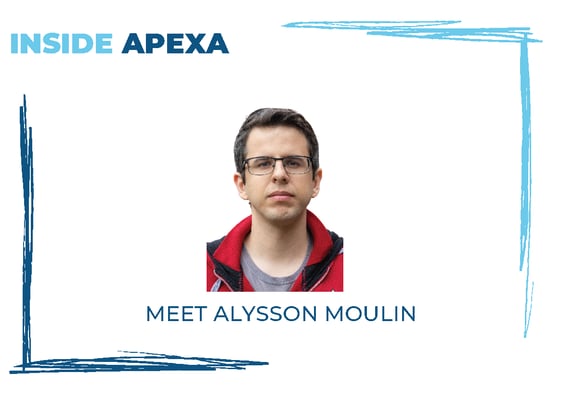 Hi! I'm Alysson Moulin, and I've been with APEXA as a Senior Software Developer since 2021.
My journey to APEXA
Coding and programming languages have always fascinated me. My high school timetable was influenced by the languages and therefore became a hybrid of regular classes in the morning, followed by afternoons filled with IT studies. Through that, my mind was opened to various tech opportunities, which led me to create my own game as a gamer. Although far from being a finished, polished product, it was a fun pet project that earned me some bragging rights among my classmates. Equipped with my experiments and high school knowledge, I went on to major and work in the computer science field. My background as a developer has been diverse. I've worked in large companies such as IBM, Capgemini, and TOTVS. My involvement has spanned projects in which I was one of many developers to those in which it was just the client and me, working side by side.
In 2019, I moved with my wife from Brazil to Canada. Before leaving Brazil, I worked in the retail industry as a point of sales (POS) systems developer. I could leverage that experience in my first job here in Canada. Almost two years later, Felipe, a long-time friend (and developer at APEXA), invited me to join the team. I went through the interview process, and here I am!
What I do in APEXA
As a Senior Software Developer at APEXA, I work alongside fellow developers to maintain and enhance the APEXA web application. My responsibilities include the following:
Troubleshooting production issues

Helping Business Analysts with investigations

Suggesting technical improvements and ways to speed up the release process of a new version of APEXA, among other things
The developer team is small, which means that each team member is multifaceted in his or her ability to handle and juggle different tasks. That environment offers learning opportunities, tools, and exposure to all areas of the system and processes.
Given my responsibilities, I often wonder which developer category I fit into – front-end, back-end, or full-stack? I guess it depends on the project and when the question is asked. For example, I've developed a mobile POS app from scratch and created multiple web and Windows solutions using legacy and new technologies. At the same time, I like to discuss user experience and user interface-related topics with business analysts. Still, I love to design new architectures heavily focused on the back end from the ground up. I can therefore say that my role is undeniably an overlapping Venn diagram of all three categories.
My go-to productivity trick
I enjoy using Trello to create and keep a board with my daily tasks under the columns "To Do," "Doing," "Done," and "Not Doing." It's free and easy to use.
The OneNote app is also a great tool to use as a logbook for projects as a whole and for a breakdown of tasks. OneNote is highly customizable; it syncs data with the cloud and protects sensitive information behind a password.
My dream skill
I would love to speak any language fluently. There is so much nuance and context that can't be captured when one is not fluent. Spending a considerable amount of time immersed in the culture and speaking the language of any country in the world would be life-changing for me.
Away from work, you can find me here
. . .playing video games with my friends or by myself, or coding for the fun of it.
I'm really into fantasy and sci-fi as themes – books, series, movies, anime, you name it – so I can likely be found enjoying one of these. I have three 20-page books that I hope to finish writing and publish someday. So don't be shy to ask me for an autograph – while I'm not a famous writer, my signature might be worth thousands of dollars someday (just kidding!).
Finally, I'm looking forward to continuing my exploration of Canadian culture and food and flavours – this has been on a hiatus since shortly after I arrived in 2019.
Subscribe to the blog to get to know the rest of the APEXA team.