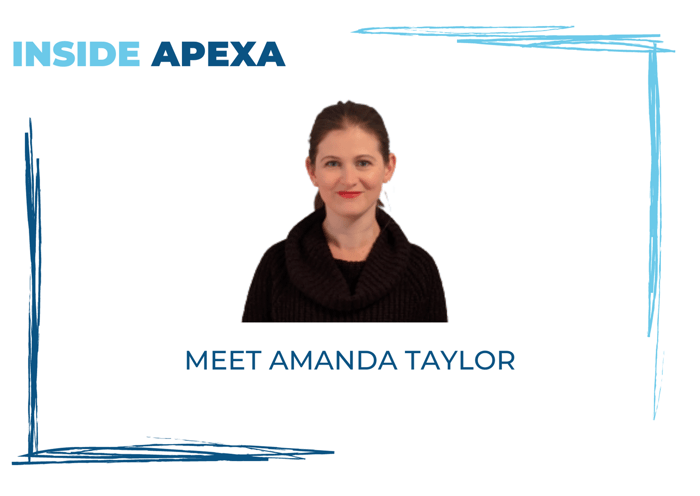 Hi! I'm Amanda Taylor, and I've been working at APEXA since 2017, just before we launched, and this is my first job with a software company servicing the insurance industry. Before joining APEXA, I worked in the compliance unit in Financial Services, specifically securities.
My Journey with APEXA
When I saw the opening for the remote document validation role here, I knew it would be a great fit for me thanks to my background in financial services. I'd just ended my first maternity leave and wanted a remote job so that I could spend more time with my family and skip the hour-long commute. As a Document Validation Specialist, my responsibilities include checking the advisor licenses and banking details, E & O, and corporate documents submitted through the APEXA portal for accuracy, ensuring advisor suitability, and facilitating the contracting process. I'm delighted with the progress APEXA has made in the industry with 15 insurers and over 50 MGAs operating its software. I attribute that to a fantastic team and supportive progressive partners.
My Productivity Trick
One trick that keeps me on course while working is listening to music through my noise-canceling headphones along with lots of coffee. I strive for excellence, reliability, and being that friendly face that my teammates can come to for help.
My Dream Skill
If there were one skill that I could snap my fingers and become an expert at, it would be knowing everything about technology. In my dreams, I'm this super knowledgeable #TechNerd who can fix every computer issue without even breaking a sweat!
Away from Work, You Can Find Me Here
When I'm not working, I love to spend time with my husband and two small children. Weekends are made for adventures, playing superheroes, and baking treats. We just moved out of the Greater Toronto Area to a small town in Northern Ontario. We're enjoying exploring our new town, checking out all the local parks, going on fun hikes, digging in the dirt, riding bikes, and jumping in the autumn leaves. At the end of our activities, I enjoy making chia pudding (a sneaky but effective way to get my kids to eat healthily) and baking chocolate chip cookies and muffins for everyone to indulge in. In fact, I'm on the hunt for new baking recipes with interesting ingredient combinations. I also enjoy knitting, a hobby I learned from my grandmother that I love to revisit by making scarves and toques for me and my family, especially now that we live in the chilly North.
Subscribe to the blog and be among the first to meet the APEXA team.