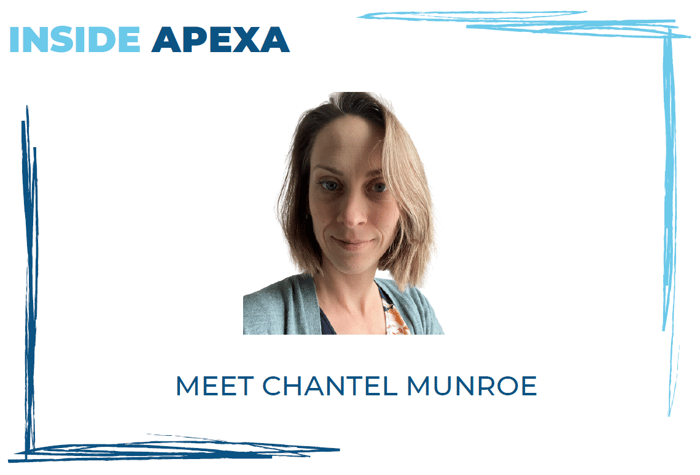 Hi! I'm Chantel Munroe, and I've been with APEXA since 2017 as a Business Analyst.
My journey to APEXA
Before joining APEXA, my background was in finance. I spent seven years at Manulife, where I started as an intermediary Business Analyst. By the time I left, my career had progressed to a senior position in treasury. My focus was on applications and centralized processing. At the end of my seventh year at the company, I decided I was ready for something new.
I was intrigued by APEXA's mission from the start. The thought of carving out a new way of doing things for the Canadian life insurance market and the opportunity to be an integral part of the team that laid the groundwork for the organization's future was exciting to me.
Never having operated an upcoming business at the grassroots level, I was thrilled to roll up my sleeves and dig into the process of establishing roots for APEXA. Due to the nature of startups, one is often given opportunities to contribute and grow in diverse work experiences. APEXA has been no exception and is thus something I value.
What I do in APEXA
My role as a Senior Business Analyst at APEXA involves managing enhancement releases, sprints, bug fixes, and virtually anything related to its software. I work with developers to make changes to the software, ensure tests are run before new versions of the software are released, and manage the schedule for releases. Much planning goes into the phases of each release, including addressing the backlogs of bug fixes and successfully executing the project. My team is dedicated to ensuring that the application evolves to meet our clients' dynamic needs.
I love seeing how enhancements to APEXA's user experience directly benefit our clients. As long as we keep sight of the processes and frameworks to maintain documentation, continue testing, and keep records for valuable insights, we will continue to provide quality to our partners. I look forward to continuing to grow at APEXA and honing my leadership skills to mentor and coach our team of Junior Business Analysts, helping them grow both personally and professionally.
My go-to productivity trick
I find that silence and writing my thoughts in a notebook enhance my productivity. Nothing feels quite as good as crossing off completed tasks on a prioritized list. It keeps me on track. Because I enjoy seeing things through from start to finish, I like being counted on to run with projects.
My dream skill
When I was in high school, I played three instruments—the alto sax, clarinet, and flute—in many bands. However, I have not touched any of those instruments in years! I have always been into #fitness, and if I could wake up tomorrow with any skill, I would love to know how to play all the sports, lift all the weights, run all the trails, ski all the hills—you name it! Movement, the outdoors, and the mental stimulation that comes from being physically active are non-negotiable for me.
Away from work, you can find me here
Evenings and weekends are currently dedicated to spending time with my family. We love taking the dog to the dog park and watching Netflix movies—I have a penchant for dramas and comedy. With a toddler around, I can only occasionally fit in reading a book or two—reaching the end of a good story is super satisfying to me. Biking is a hobby that I appreciate, especially now. My travel list is long, and I look forward to crossing off countries and cities with my family in the future.
Subscribe to the blog and be among the first to meet the APEXA team.