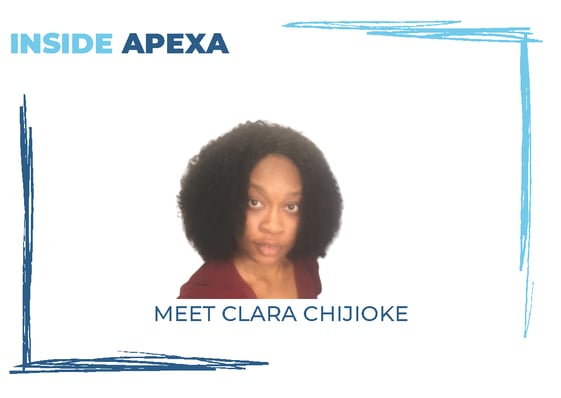 Hi! I'm Clara Chijioke, and I've been with APEXA as a Business Analyst since May 2020.
My journey to APEXA
My undergraduate degree was in international relations and strategic studies. Afterwards, I obtained a Master's in International Business, Marketing, and Human Resource Management in the UK. While studying for my master's, I worked in the banking industry in several roles, including customer service, settlement payment processing, teller, back office, and IT. Finally, I worked on projects that opened the door to project management. What fascinated me the most about project management was the process – starting a project, seeing it through to implementation, and experiencing users work with the finished result. Being a part of that process from start to finish and watching a solution come out of a simple idea made me feel accomplished.
Although my curiosity about project management was ignited at that time, conversations with friends piqued my interest in business analysis (BA). It also helped that the BA industry was booming in the UK, so I took some courses and got my feet wet, volunteering while job hunting. For approximately seven years, I gathered experience in business analysis in financial services organizations both in the UK and in Nigeria.
I moved to Canada in January 2020, and a few months later, I applied for a BA role at APEXA. My first impressions of the organization's culture while interviewing with the team were in three words – accessible, collaborative, and friendly. After joining APEXA, I was proven right! Despite this being my first remote hiring and working experience, I have felt supported from the beginning, as the team has helped me successfully settle into the role and navigate my responsibilities.
What I do in APEXA
As a business analyst at APEXA, I support clients on their user journey through the system by investigating and troubleshooting any challenges they might encounter when the issues escalate. This involves understanding the challenges clients are experiencing, troubleshooting complex issues, identifying bugs, and working with our development team to fix them. My investigation work often includes staging data in test environments and working closely with our developers to reproduce errors to facilitate solutions.
As an ongoing part of our processes, I help create and maintain internal technical documentation and client support documentation, which aids our customer support team in quickly answering FAQs.
Recently, I expanded my responsibilities to collaborate on system enhancements. My role focused on reviewing user stories and acceptance criteria to understand the intended user journey. After that, I wrote test cases to help inform the system enhancements.
Finally, I collaborate with Equifax, BackCheck, and OneSpan. A credit check is mandatory for all Advisors when they join APEXA and periodically, as requested by the MGAs or Carriers. If there are any technical concerns with a client's credit check, I work with Equifax to troubleshoot and resolve the issue. Managing vendor relationships is ongoing, as they do have regular system maintenance, which we ensure has no impact on APEXA and client activities. Similarly, OneSpan has software that enables our customers to sign agreements on APEXA, and I work hard to ensure that this experience is seamless.
As a unit, the Product Team is excited to make APEXA even more user-friendly. We look for what can be added, improved, or changed to facilitate our user's journey.
My goals align with APEXA's objectives – to deliver exceptional customer service, anticipate problems, identify gaps that we can fill, and enhance the system. Meeting these objectives contributes to APEXA being a unifying pillar of innovation in the industry.
I love my team's culture – Coffee Tuesdays were implemented during the pandemic as an avenue for the BA team to connect on work-related tasks and fun activities every other Tuesday. We offer support wherever any team member needs it; we are all currently undergoing training across the department so that, whenever needed, any role can be covered in case of absence.
My go-to productivity trick
I have a mental roadmap and checklist of activities for each day. Once my internal check is done, I make sure that I have some sweets and treats at my fingertips while working. Occasionally, I'll take a short walk or take part in an indoor activity when I need a break from my screen.
My dream skill
A gift that I have is to make people warm up to me quite quickly, probably because I strive to be a trusting, welcoming person from the first interaction. If there were one skill at which I could immediately have expert level, it would be predicting the future. I'm not too fond of surprises; I always like to be prepared. The predictive skill would come in handy in many life areas – learning from successful innovations, helping people avoid mistakes and risks, and appreciating the good times because I know that I am in them.
Away from work, you can find me here
. . .Buried in a novel, trying out new recipes, or enjoying the taste of Canadian treats.
Before the pandemic, I traveled extensively, randomly exploring neighboring cities in the UK with friends on the weekend. Life consists of many magical moments. One of my favorites is the feeling I get before I board a plane or get on a train heading to visit a different location. Train rides come with picturesque landscapes, and arrivals lead to hiking along lakes, up mountains, and on trails and visiting historical sites and football stadiums. As a football fan, I always check out prominent stadiums whenever I visit a new country.
Post-pandemic, a tour of Europe is at the top of my travel list. And, as a Richard Quest fan, I want to take on adventures around the globe, try new foods, experience new cultures, and maybe learn a new language!
Subscribe to the blog to get to know the rest of the APEXA team.