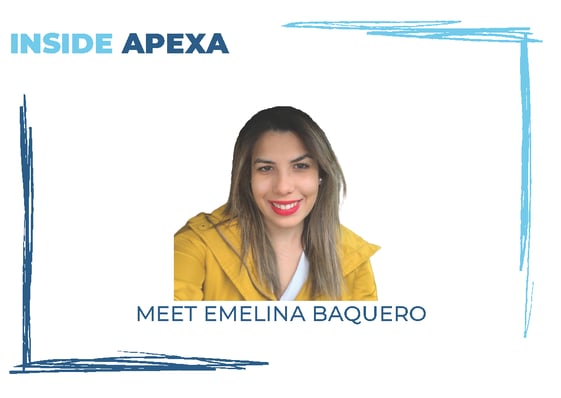 Hi! I'm Emelina Baquero, and I joined the APEXA team as an Advisor Support Specialist in 2021.
My journey to APEXA
In April 2021, I received an undergraduate degree in political science with French immersion. While I was still studying, I worked at Tim Hortons, where I learned the importance of collaboration and other team skills. In my second year of university, worked for a political party. Given my degree, I was trying to make inroads towards the career that I'd envisioned for myself. I was part of the MUN (Model United Nations) team, and my social skills came to play as I got involved with diplomacy, international relations, and United Nations models. Through this, I was able to volunteer for a Canadian political party where I interacted with politicians during election campaigns.
At that time, I realized that although I enjoyed every facet of political science and the skills I'd acquired along the way, I wanted to pivot my career toward software solutions, specifically in FinTech. APEXA was my first step into the corporate world after completing my degree. It turns out I have a knack for supporting software users, which is great because I enjoy it! My experience so far has been exceptional – APEXA offers a dynamic environment where growth and teamwork are highly encouraged.
What I do in APEXA
As an Advisor Support Specialist, I mostly service Advisors by resolving their tickets primarily in English but also in French. Additionally, I support MGA tickets. I assist them with understanding contracts, and I walk them through the setup of multiple-party contracts on APEXA.
On a typical day, I respond to Advisor queries and guide them through their challenges. Sometimes, we have a large volume of calls, as we're simultaneously receiving tickets on JIRA – the APEXA support platform. While most queries are standard, there can be one-off incidents that require quick brainstorming sessions to resolve. These scenarios presented the opportunity to exercise my client management, problem-solving, and communications skills.
Currently, the Support team has a buddy system with the Business Analyst team. With this system in place, we can solve challenges more efficiently and provide quality service to our clients. Documenting these processes helps us expedite ticket management and educate our clients on system best practices.
My goal at APEXA is to improve the overall experience and reputation of the APEXA brand and system, with a positive impact on client satisfaction.
My go-to productivity trick
Having a routine works for me! I get up by 6 a.m. and then work out or go for a walk. This wakes me up mentally and sets me up to begin my workday feeling refreshed.
Since life insurance is new to me, I embrace growth by researching the industry through articles, podcasts, and more. Being better informed increases my confidence and productivity levels as I assist clients in navigating the system.
My dream skill
I have the capacity to talk to anyone about anything. I can always get people to open up to me and generously share their thoughts. However, if I could wake up with a skill or power, I would love to have the ability to teleport from place to place. Teleporting would give me the freedom to travel wherever I want without the hassle that comes with airports, delays, and crowds! On the professional side, I could teleport directly to the client, solve their issues on the spot, and then teleport back home to keep working.
Away from work, you can find me here
I'm a food-loving, globe-trotting adrenaline junkie who is scared of heights. I panic before I do any activity that involves jumping from a significant height but flying down exhilarates me. Then, once I hit the ground, I'm ready to do it all over again. Whitewater rafting and skiing are two other sports that I enjoy.
One day, I would like to say that I have traveled the world and spent time on every continent. For now, I look forward to visiting Europe and South America. Despite loving the memories that I build when I travel with friends, for me, traveling is best enjoyed solo – I'm pushed out of my comfort zone and therefore able to experience and enjoy the various cultures when I'm by myself than when I have a travel companion.
As a self-certified foodie, I love every culture's cuisine, particularly Arabic foods. Food makes me happy – I look forward to trying new dishes as I travel the world!
Subscribe to the blog to get to know the rest of the APEXA team.