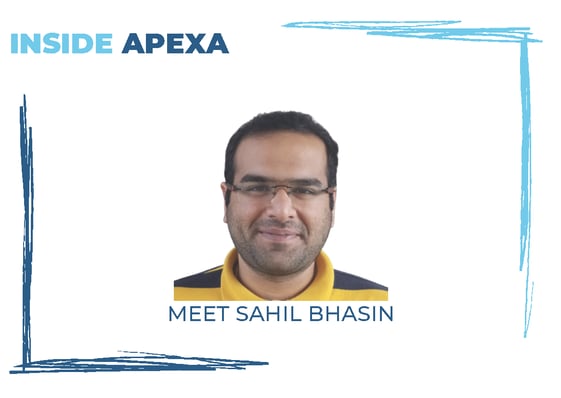 Hi! I'm Sahil Bhasin, and I've been with APEXA as a Senior Software Developer since June 2021.
My journey to APEXA
After obtaining a bachelor's degree in software engineering from SRM University in India, I joined a multinational company called Cognizant as a program analyst where I designed interactive voice systems for clients such as Kohl's and Charles Taylor. Whenever a customer called in, the automated bot would respond to the customer and help them with their queries, guiding them with the proper solutions. The system also collected various logs to provide the clients with areas that needed improvement for their services to run smoothly.
After working there for 15 months, I moved to the US to pursue a Master's in Computer Science at the State University of New York in Albany. After graduation, I was hired as a software developer at the Revenue Market, where I designed various toll collection systems throughout the United States that performed automatic wireless transactions. In this capacity, I managed a number of projects for Los Angeles World Airports, Richmond Metropolitan Transportation Authority, Kohl's, and the Chesapeake Bay Bridge–Tunnel, to name a few. Within the organization, I progressed from developer to manager and led a team of developers and testers. I provided guidance, was a scrum master for the projects, and engaged stakeholders through to project completion.
While catching up with an old buddy, Devansh, a business analyst at APEXA, I learned about the company and its mission to drive change via innovation in the life insurance industry. More research about APEXA revealed its connection with RGA, whose culture, goals, and pillars I found impressive. Not long after, I learned that APEXA was seeking to hire a senior software developer with responsibilities aligned with my expectations. I applied for that position, went through the interview process, and have since had my expectations of the team, culture, and support surpassed
What I do in APEXA
As a senior software developer at APEXA, I hold a full stack developer position that encompasses front- and back-end and everything in between. It includes analyzing, designing, prototyping, developing, testing, troubleshooting, and supporting front-end or back-end issues or systems enhancements. My role is to maintain the APEXA software. As our user base increases daily, APEXA strives to make the system more user-friendly to facilitate clients' journey through the software as they conduct business. We are always increasing the resources required to optimize system performance so that we can cater to demands as they arise.
My responsibilities also include fixing bugs, designing, and implementing new strategies to maintain the database as it grows, improving the speed of results from queries, and ensuring our processes are scalable as onboarding increases. As a form of quality control, we have a "code review" strategy involving a second developer reviewing the solution before deployment to production occurs. I love code reviews because the sessions expose better solutions we might have missed. For example, if we applied a solution without being aware of a more optimized one, code review sessions help us identify such cases, broaden our horizons regarding new technologies, and teach us to incorporate new ideas into the same program. I love the brainstorming sessions for troubleshooting problems – I enjoy the team aspect of that process. Nothing beats the happiness and satisfaction I get after writing a piece of code that solves a problem. My goal at APEXA is to support the growth of our clients' businesses as we facilitate the compliance and contracting aspects of their business processes. I hope to keep adding value to our partners and to the APEXA team.
My onboarding process made me feel welcome, so I try to do the same with new hires by providing guidance and educating them about the system
My go-to productivity trick
As an early bird, I begin my workday at 7:30 a.m. after a nice breakfast. I do my most productive work during the first three to four hours of the day because it is when my focus is most heightened. To conquer the midday slump, I find a cold-water facewash invigorates me. It gets my creative juices flowing and helps me concentrate if I'm stuck on a task.
My dream skill
Due to my previous work experience in the food industry, I consider myself a pro at chopping vegetables. However, if I could snap my fingers and become an expert at anything, I would like to be an expert at memorizing directions and therefore never get lost. Despite visiting a location multiple times, I always rely on a GPS to get there. Besides, the ability to find my way in and out of any location without the aid of a compass could land me a cool side gig as a rescuer.
Away from work, you can find me here
Adventure sports have a hold on me. I enjoy white water rafting and skydiving – I'm working on getting my skydiving licence. I'm excited to explore Canada's landscape one extreme sport at a time while belting out my favorite karaoke tune – Radioactive by Imagine Dragons.
I also appreciate a good Netflix binging session. My favorite show to watch repeatedly is Suits. Also, Avatar was an awesome movie. If that universe existed, I would like to visit it – but as one of their species. Given their size, I'm sure that if I were a human there, they would consider me a pet!
Subscribe to the blog to get to know the rest of the APEXA team.