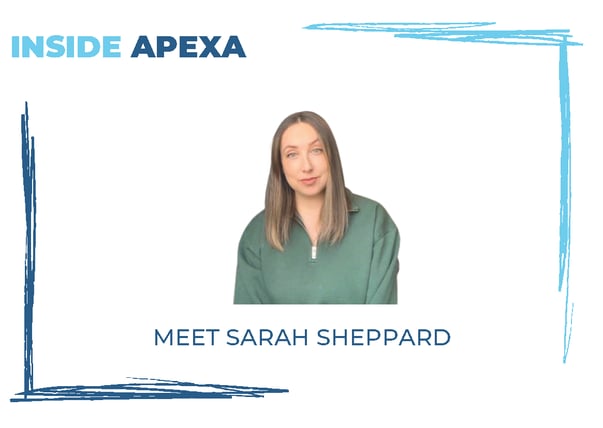 Hi, I'm Sarah Sheppard and I work at APEXA as a Client Implementation Lead.
My journey to APEXA
I started in the financial services and insurance industry twelve years ago. The first five years of that period were with an MGA, Financial Horizons. Within that organization, I learned the objectives of the Life Insurance Industry holistically, including the industry's hierarchy, with a particular focus on the role of the MGAs. During that time, to gain perspective on the Advisor's role in the industry, I also obtained the LLQP. Obtaining that license provided me with a highly enriched, 360-degree view of the industry. This, coupled with my transition into the Life Insurance Business Manager role, furthered my progress toward becoming a subject matter expert in the Life Insurance Industry.
From there, I moved to Manulife and gained exposure to the Carrier level of the Life Insurance Industry while working as a New Business Case Manager. That experience vastly improved my knowledge of the industry's logistics. Also, while I was at Manulife, their first life insurance e-application was launched. The application made client submission of a life insurance policy electronic and effortlessly connected the advisor, client, and carrier. Because of my evident interest in the tech space, I was given the opportunity to learn about the app and then coach the internal team and Advisors about its features, such as its e-signature functionalities. Thus, my passion for tech intersected with my experience in the Life Insurance Industry.
After about three years with Manulife, I was offered the role of Customer Relationship Manager within IDC Worldsource Insurance Network, which involved similar responsibilities with the bulk of that spent onboarding and contracting new Advisors. These contracts often ran into double-digit sheets of paper. They were usually mailed back and forth a few times, with much extra paper being used for corrections before settling on a final version. I was constantly submerged in paperwork. Consequently, I was excited to learn that IDC was implementing APEXA. I could not wait to learn all about this platform that reduced the volume of paper waste while also streamlining the contracting process for the organization. I began learning about the system and how it interacted with my role. During that training period, I discovered certain key benefits of the software, including time-saving, detailed tracking, and automation of all the screening functions I was performing in the paper world. I found APEXA especially user-friendly to leverage in my day-to-day, which informed my decision to take my career to the tech space. Decision made, I researched the roles open at APEXA and interviewed for the Client Implementation Lead position. By May 2019, I had bought a one-way ticket, packed up, and moved from Halifax to join APEXA in Toronto, and started a new chapter of my career.
What I do in APEXA
As a Client Implementation Lead at APEXA, I work with MGA and Carrier clients throughout their implementation journey. We analyze their business to determine the type of project plan that will best suit their business model. The timeline of our project plan varies from eight weeks to six months. I coordinate resources between client and APEXA teams to ensure all requirements of the project are completed on time, such as an agreement review to determine the contracts that need to be built digitally for use in APEXA with e-signature functionality. For MGAs, we look at what their data looks like matched with the Carriers they do business with. That includes working with the back-office providers for each MGA. Within the project plan, we have a scheduled training period that each organization must undergo with APEXA's Director of Training. Our training is currently online, which has made it easier for most of our clients while also facilitating our coordination efforts. Online training has simplified accessibility to training clients across locations and conflicting time zones within Canada. After training, we move into a post-training phase, a test environment where our clients try out the knowledge acquired at the training session. During the test period, I identify any gaps that the client might need some coaching with. Since I have used APEXA in the real world while working at an MGA, I can understand the client's perspective and pinpoint areas to optimize and create efficiencies for their business. The fact that I've worked at both an MGA and a Carrier, and I know what their processes are, has truly set me up for success in this role.
After APEXA is implemented at an MGA, the system creates efficiencies in most areas of its business by automating the screening function. On one end, screening a new Advisor can be a little administratively heavy – MGAs often order a credit check directly from a provider. They may have to order a criminal background check separately and then review all of these documents on paper. Now, all that information is included on the Advisor's APEXA profile, saving the MGAs significant time. On the other end, MGAs are responsible for understanding the process of each Carrier that they work with. That could mean up to fifteen or more Carriers, which is a considerable undertaking for MGAs as they have to understand what the Carrier requires when setting up a new contract and the current versions of the form. APEXA solves that problem by giving the MGAs access to the Carrier's contracts on the system. With that access, the MGAs know that any document they are attaching to the system is the current version. They do not have to sift through numerous PDFs online or print out copies. It is all digital, and the MGAs can trust that when an Advisor returns a contract, all the requirements have been met, and they are comfortable pushing it up to the Carrier. That is the most powerful feature of APEXA for an MGA user.
My goal at APEXA is for the industry to successfully transition from a fully paper process for Advisor contracting, screening, and monitoring to a fully digital process on APEXA and a successful go-live on the platform. After go-live, my job is to ensure that we have a smooth transition from the support of a client implementation over to APEXA's Customer Support team and that the clients have all the tools they need to be successful on the system.
It will be exciting to watch the industry's advancements when every Canadian MGA, Carrier, and Advisor becomes connected on this amazing ecosystem. I am most motivated by making a real impact and seeing what implementing this change can do for our clients. My background in an assortment of client-facing roles has prepared me to develop our client experience further so that everyone has optimal use of the system. Client satisfaction displayed by their ease with the system is rewarding for me. Impacting change often involves diversity in work responsibilities and switching gears constantly if something does not work. These factors keep me excited to explore all avenues that can enhance our client's overall integration and use of the system.
My go-to productivity trick
"What goes best with a cup of coffee? Another cup" is a quote that best describes my feelings about coffee. In fact, I am drinking a cup of coffee as this conversation is happening. I love it for the burst of boundless energy I get after that first sip.
Coffee in hand, I move to my next trick: blocking off time in my calendar. Placing each task and deliverable into my calendar adds importance to them, which puts me in a productive mindset. If I cannot block off some time for a task at that moment, I also send myself emails as reminders. When I receive emails from myself with the action items, I feel the urgency to get on it as quickly as possible. Finally, I keep to-do lists within easy reach – they are more detailed versions of each task.
My dream skill
In the 1990s, I was a baton-twirling competitive majorette to the point that my mother would hire choreographers to teach me my routines, and I would have to practice every day in our basement. Although it has been years since I performed, muscle memory is fascinating – I can always produce some fancy moves in the right circumstance.
But if I could gain a skill by snapping my fingers, I would be a successful interior designer. I love interior design and have an eclectic taste in it. Understanding the client's taste and then pulling that vision together for their home, office, or any space they want to be designed is a skill that I would love to have in another life. My inspiration is drawn from the renaissance that Halifax is currently undergoing. The city's skyline is now starkly juxtaposed with both old and new architecture, which excites my creative thinking whenever I go thrifting for pieces that complement the modern style of my home.
Away from work, you can find me here
Pre-pandemic, I traveled frequently. My family is on the East Coast, so I try to get home to Halifax and Newfoundland every so often. Toronto has an impressive and diverse culinary scene, which I have enjoyed even during the pandemic. After trying a new dish, I always attempt to recreate it at home.
I am a huge green thumb! You can find me regularly researching different plants, learning how to propagate them so that I can gift my friends and family clippings.
To unwind after a long day, I will watch Gilmore Girls, The Office, Madmen, and any true crime series. However, the fictional place I would most like to visit is Willy Wonka's Chocolate Factory. We had that movie on VHS as a child, and my sister and I memorized every song in it.
I am serious about fitness; I enjoy staying active by running, cycling, hanging out with my dog, going out on the boat with my partner, and swimming at our cottage up north. I look forward to exploring all that Ontario has to offer once everything is back open, including singing bad renditions of Alanis Morrissette's You Oughta Know at your local Karaoke club.
Subscribe to the blog to get to know the rest of the APEXA team.