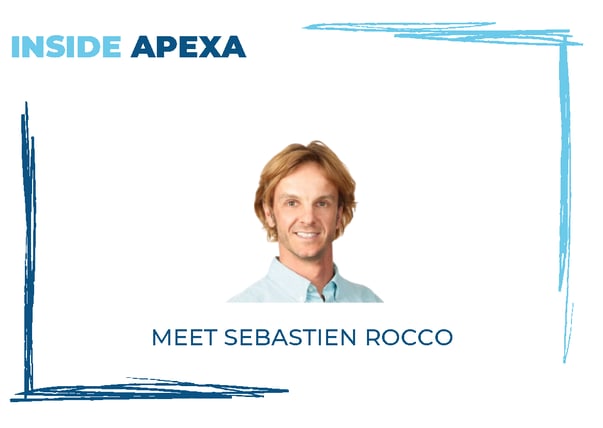 Hi, I'm Sebastien Rocco and I work at APEXA as a Sales and Account Director.
My journey to APEXA
Being bilingual, upon my arrival in Canada in 2007, I immediately found work as a salesperson in the travel insurance industry. Over the next 10 years, I progressively took on key roles that led me to the decision to launch my consultancy. After acquiring some solid business experience in that market, I figured that it would be as good a time as any for me to reintegrate into a full-time position in software as a service aspect of the insurance industry. APEXA was a breath of fresh air for me – it was an arena for me to display my insurance experience while bringing in the relationships that I had made along that journey, all the while introducing them to the APEXA software. After a month of conversations with various team members who confirmed a culture and personality fit, I began working at APEXA.
What I do in APEXA
As a Sales Director for APEXA, my role focuses on connecting and fostering relationships with clients. Building a connection is key to onboarding them to APEXA and ensuring seamless, standardized compliance monitoring and contracting experience. After an initial introduction of APEXA to the client, I shift focus to learning their pain points, both with internal operations and the APEXA system. I guide clients through the process and ensure that their needs are met before, during, and after the transition to the system. Of course, all systems are dynamic, which means regular updates are required to keep up with users' evolving needs. At APEXA, we welcome conversations around areas of the software that can be improved to suit our clients' businesses. These conversations can also reveal knowledge gaps that we address through monthly webinars and by taking a more hands-on approach to augment their post-training capabilities.
Additionally, I train our Francophone clients to use APEXA. However, the training opportunities may decline as a direct result of the industry progressively adopting the system. My goal within APEXA is to be a part of its second chapter, to continue evolving with APEXA while keeping focus on our clients.
APEXA consists of an agile team that is receptive to ideas, regardless of the role or position. We are goal-oriented and fast-paced, and we appreciate healthy competition. Because of the positive workplace environment, the friendly team, and how great the office space is, I am always happy to go into the office and look forward to when it reopens.
My go-to productivity trick
I find that I am my biggest rival. Due to my competitive sports background, I learned to be self-disciplined and to always improve my previous performance. This has translated into how I approach my work internally as I constantly drive to surpass whatever goals have been set. My competitiveness, combined with my organizational skills, keep me motivated. Sticking to a schedule definitely enables me to maximize productivity.
Another productivity trick that works for me is traveling to meet with clients. Being able to intersperse critical thinking with on-site conversations with clients makes it easier to understand their needs and then carry that over into strategic problem-solving.
My dream skill
One thing that people find surprising about me is that I am a natural green thumb. This is a skill that I did not know I had until friends left their plants in my care. Those plants went from a pathetic state to huge, thriving visions of beauty.
I also consider myself a craftsperson who enjoys fixing things. I love to tinker with appliances to learn how they work – whenever I buy a new bicycle, my curiosity drives me to pull it apart and then put it together again.
However, if I could snap my fingers and become an expert at something, it would be an absorber of knowledge. Being able to retain every bit of information that people share with me, regardless of the subject, and then using the knowledge to fix problems is key to forging great connections and making progress. I would also love to wake up with the ability to transport myself from country to country in a matter of seconds.
Away from work, you can find me here
. . . cycling in Hawaii – when travel is back on the table. Now, I spend much of my free time training for the triathlon competitions that I attend regularly. My life outside of work usually centers on sports or travel, or a combination of both. The outdoors has a hold on me. I also have a YouTube channel with videos of my most recent trips, including a few tutorials.
I also watch some TV. Because I am so passionate about Hawaii, I enjoy shows that are about the island. Watching the Friends reunion that was just released reminded me of the feeling of loss that overwhelmed me after the show ended years ago. And I would love to visit Quahog in Family Guy as a cartoon character just to hang out with Peter and his crew.
Subscribe to the blog to get to know the rest of the APEXA team.