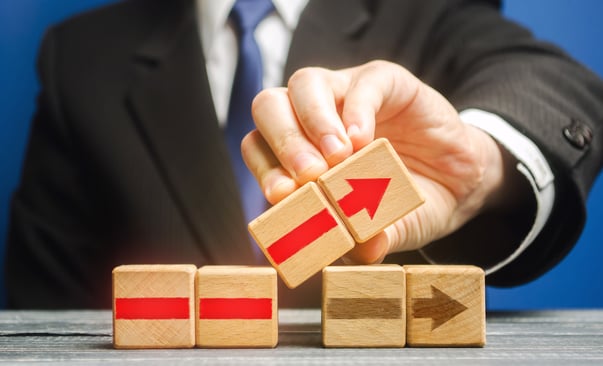 When you think of modernizing your business, going digital may be what first comes to mind. While the importance of being digital is reinforced globally, it is not the only component that should be considered to ensure the changes you are making are optimizing workflow and improving efficiencies. In our journey to standardize and simplify life insurance advisor compliance through modern technology, we have learned valuable lessons along the way that corporations, MGAs, or insurers in the life insurance industry can consider when facing business modernization.
Improve Communication Flow
Challenge:
A lack of clear messaging on directives from top to bottom can decelerate communication and, in turn, slow down processes. Open-plan offices have overtaken more traditional settings across industries, but with the current work-from-home reality, the chances of working in silos have increased, consequently stalling process development and cross-team collaboration. Internal projects and system adoptions can fail or have low success rates due to no direct communication path or even a multidimensional communication process, both of which occasionally can bring output to a grinding halt.
Solution:
Provide clear messaging on directives and projects to all involved stakeholders, include a change management plan, and define high priority/mandatory items, key milestones, and due dates. Ensure all team leaders clearly understand what they must accomplish and confirm that they have communicated this to all the team members involved. Request frequent updates from all your teams.
Assign Responsibility
Challenge:
All parties involved in creating or distributing products share the responsibility of informing their teams and the public/their customers about the products. In compliance with the Fair Treatment of Customers guidelines, this includes taking the responsibility of ensuring that all parties have current information on each product: its purpose, function, and potential risk to the customer. While this represents the standard, a team/employee in each organization must be attributed responsibility for updating documents containing information about products and process guides. Furthermore, organizations should provide the possibility of hosting such data, which is required by all parties, in a centralized, secure location and grant multilevel accessibility for employees to view only, comment, or edit the documents. In the Life Insurance Industry, sharing outdated documents/information comes with the inherent risk of rejected paperwork at the carrier level, rejected fund trades, high courier fees, and a poor Advisor-to-client experience. Equally important is the risk of poor recommendations to the customer.
Solution:
One way to address this gap in the industry is to create roles or appoint team members to manage a secure, centralized database—hosted on a separate website or within a document sharing program—that includes all relevant internal MGA/external carrier information, such as forms, process guides, business addresses, key contacts, and carrier product information. Ensure that this is frequently updated, reviewed for accuracy, and shared with all team members.
Optimize Your Resources
Challenge:
Organizations within the Life Insurance Industry understand the importance of error-free contracts and other documents, especially given the high volume of applications processed. Without a clearly structured workflow with built-in check steps, you risk having incomplete and/or incorrectly completed documentation distributed between contracting parties. This could be due to untrained personnel, overworked staff, or a lack of precise quality control guides. Combined these can eventually result in overall poor service to Advisors and clients, which in turn can lead to resources and revenue taking a hit, staff exiting due to burnout/lack of clarity, and business partners ending agreements.
Solution:
A surefire way to mitigate inefficiencies and time wasting is to promote attention to detail and expend some effort on quality control. Complete frequent analyses to ensure teams are resourced to manage current business volumes and confirm that the teams' workflows are appropriately balanced. Wherever necessary, and if possible, promote staff to expand their responsibilities, retrain those struggling with executing their tasks, and hire recruits to fill the process flow gaps.
Modernizing your business's operations involves a structured, collaborative, and digitized approach. The APEXA software facilitates this development—integrating all your partners into one location and removing the stress of high courier fees that come with paper-heavy contracting and compliance checks—by digitizing that entire process from start to finish. Let us get you started.